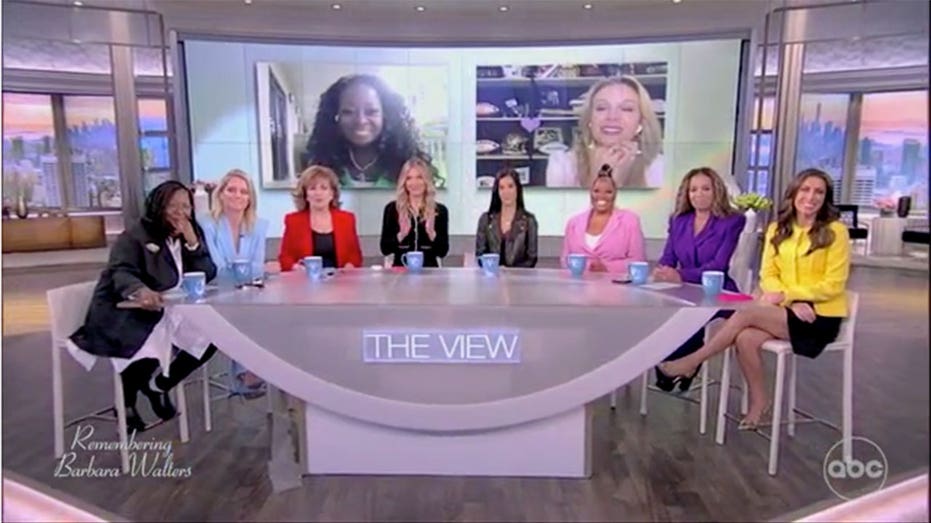 Several former co-hosts and the current co-hosts of ABC's "The View" paid tribute to the show's founder and journalism icon Barbara Walters on Tuesday.
Co-hosts Whoopi Goldberg, Joy Behar, Sunny Hostin, Sara Haines and Alyssa Farah Griffin remembered Walters, who died last month at age 93, as the "original role model" for everyone else as she started the show when she was 68 years old.
"We have to give the woman a lot of credit, she was not just a friend to us, but she was really one of a kind and very important to the industry I think," Behar, one of the original and co-hosts of the show, said. Behar told ABC's "Good Morning America" on Saturday that Walters had a "work ethic you couldn't deny."
Goldberg looked back on when she first met Walters during an interview on "The Barbara Walters Special" in 1991 and said the two really bonded over the idea that they "could have been better." 
WHOOPI GOLDBERG SAYS 'THE VIEW,' BARBARA WALTERS SAVED HER CAREER AFTER 2004 GEORGE BUSH CONTROVERSY 
She added that the interview was "really an audition" for twenty years later to join "The View."
"When I started co-hosting I was changing my questions on my cards," Hostin said. "I was changing them and rewriting them and rewriting them not realizing that maybe that wasn't appropriate and she came over to me, that's a picture of it, and said, what are you doing? I said, this is not my voice, I'm rewriting my question, is that okay? She said 'I rewrite mine' and then she started helping me, and I thought, my goodness the generosity of that moment, I was so scared, and I was so nervous, she validated my opinion. And after that day, she would ask me during the hot topics meeting, well what do you think, Sunny? and I was like, Barbara Walters is asking me what I think? Wow." 
Lisa Ling, who co-hosted the show from 1999-2002, joined the current co-hosts and shared an anecdote from a lunch she had with Walters early in her career.
"We were sitting there and she's looking straight at me and starting to ask me about intimate details of my personal life and I've been watching all these clips over the last couple of days of how she made people cry so effortlessly and so easily and I'm telling you when she started asking me about my mom I was just wailing," Ling said. "I got myself into therapy right after that and I became diligent about going every week and it wasn't because Barbara traumatized me it was because she started asking me questions that I didn't really know the answers to."
BARBARA WALTERS HONORED WITH 'THIS IS 2020' TRIBUTE VIDEO FEATURING STAR CAMEOS
Elisabeth Hasselbeck, who co-hosted "The View" from 2003 to 2013, also joined the co-hosts on Tuesday to pay tribute to Walters. 
"I like to say she was contagiously compassionately curious and I love that about her. We know how well she researched and she gave her guests a chance to really's press themselves in a safe way and we all benefited from that. So she gave me a chance, she changed my life, I mean, the ten years next to her side and with all of you at different times, so enriched my life, so I'm blessed by that. I'm able to interview and research because of her," she said. 
Hasselbeck added that she was tasked with debating her boss on different issues and emphasized that Walters had always put their relationship over the "roles" they had on "The View." 
CLICK HERE TO GET THE FOX NEWS APP
"I think the reason Barbara and I not only had that special relationship over ten years at "The View" but the ten years since in such an enriched way was because she put our relationship over the roles that we had. I was her TV daughter, she was my TV mom. She was my boss. I answered to her. She was my mentor. I was her mentee. And so if she didn't choose to put our relationship and her role first we wouldn't have that relationship now," she continued. 
Hostin said later in the show that she appreciated when Walters told the hosts to treat their guests like guests in their own homes. 
"She demanded that we demand the best of us and demand respect from others. That's what she said. You don't let anybody talk down to you, ever," Goldberg added. 
https://www.foxnews.com/media/the-view-hosts-pay-tribute-barbara-walters-original-role-model