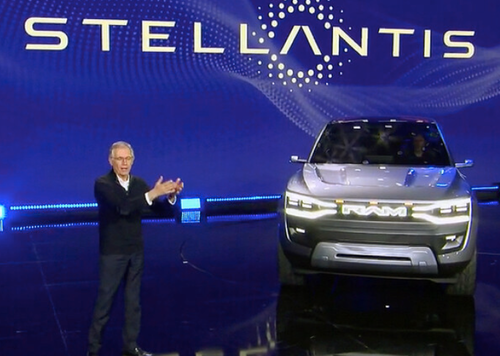 Dodge Ram Reveals First EV Pickup To Take On Cybertruck
Stellantis NV unveiled its first electric pickup under the Ram Truck brand on the CES 2023 show floor in Las Vegas. 
On Thursday, the Ram 1500 Revolution Battery-electric Vehicle (BEV) Concept was shown for the first time. The truck is about two years behind rivals and is slated for 2024 production. 
.@RamTrucks unveils the Ram 1500 Revolution battery-electric vehicle Concept @CES 2023, demonstrating the brand's commitment to electric-vehicle leadership. #StellantisDareForward #RamTrucks #RamRevolution #BEV #EV #CES2023

Detailshttps://t.co/1Ozo3R3qj4 pic.twitter.com/TG2smgsAgP

— Convenience Store News. (@CStoreNews_) January 6, 2023
"Everything our customers see from Ram in the future will be a direct descendant of this Ram Revolution concept," Mike Koval, head of the Ram brand, told Bloomberg. He was firm that the all-electric drivetrain would deliver best-in-class customer performance:
 "We will push past what our competitors have announced."
The Revolution's competitors include Rivian Automotive Inc.'s R1T, Ford Motor Co.'s F-150 Lightning, Tesals' Cybertruck, Chevrolet's Silverado EV, and GMC's Hummer EV, to name a few. 
"If Stellantis wants to survive, they're going to have to beat at least one of the big dogs in trucks," said Sandy Munro, founder of Detroit engineering firm Munro & Associates.
A Stellantis press release provided some specs about the Revolution, including its ability to charge 100 miles of range in about 10 minutes with 800-volt DC fast charging at up to 350 kW.
Head designer Ralph Gilles told Fox News the new truck has "a fold-down rear wall that stretches the bed floor into the cabin and a tunnel down the center that goes under the armrest through the dashboard and into the front trunk." 
The concept shown at CES 2023 isn't the final design, and Stellantis told Bloomberg there would be tweaks to the design before series production begins. 
Tyler Durden
Fri, 01/06/2023 – 17:20
https://www.zerohedge.com/technology/dodge-ram-reveals-first-ev-pickup-take-cybertruck