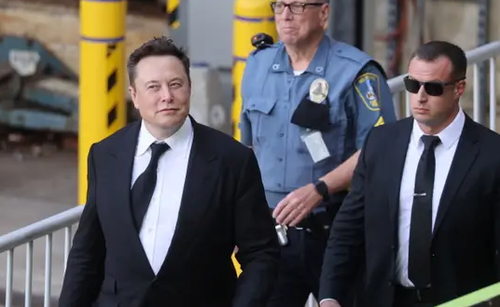 Elon Musk Aims To Move Fraud Trial From California To Texas To Avoid "Local Negativity"
Elon Musk is aiming to move an upcoming fraud trial with Tesla shareholders moved out of San Francisco and into Texas. Musk's lawyers have claimed that jurors in the California region "will probably be biased against him" due to recent layoffs at Twitter and "local negativity", Bloomberg reported this weekend.
Musk is seeking to have the trial held in West Texas, the report says, where Tesla recently moved its headquarters. The request was made in court filings late on Friday afternoon. 
Musk's lawyers wrote that jurors in the Bay Area are "likely to hold a personal and material bias against Mr. Musk as a result of recent layoffs at one of his companies as individual prospective jurors — or their friends and relatives — may have been personally impacted."
They continued: "The existing baseline bias has been compounded, expanded, and reinforced by the negative and inflammatory local publicity surrounding the events."
"To be clear, this motion is not being brought simply because Mr. Musk has been the subject of negative news coverage. Mr. Musk has been a public figure for more than a decade and recognizes that being the subject of negative and even unfair media attention comes with the territory," the motion says. 
"The local media and political establishment have attempted to depict Mr. Musk as personally responsible for causing material economic harm to the significant number of potential jurors impacted by the layoffs and to the City of San Francisco as a whole." 
It concludes: "Mr. Musk is far likelier to receive a fair trial in the Western District of Texas. Mr. Musk has not been the subject of overwhelming, pervasive, and inflammatory press coverage by the local media in the Western District of Texas, like he has in this district. Texas news outlets publish far fewer stories about Mr. Musk."
The trial is about Musk's August 2018 tweets where he claimed he had "funding secured" to take the company private for $420 per share. The investors that are suing Musk said that his statements were "indisputably false" and cost them billions as Tesla's stock price reacted wildly to the news. 
As Musk has said in the past, he is claiming that the Saudi Arabia sovereign wealth fund had, in fact, agreed to help him with funding in a go-private transaction. 
Tyler Durden
Sun, 01/08/2023 – 12:00
https://www.zerohedge.com/markets/elon-musk-aims-move-fraud-trial-california-texas-avoid-local-negativity