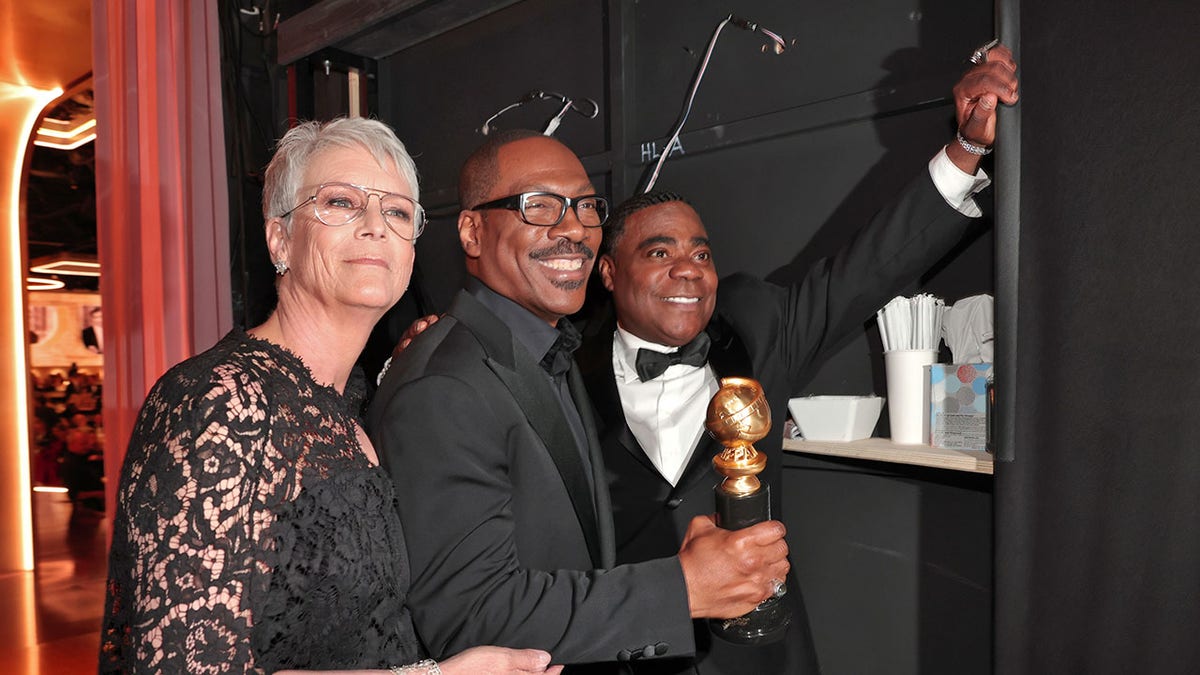 Most faces at Tuesday's Golden Globes ceremony were maskless despite Los Angeles County's recent 10-day mask guidance as an effort to prevent a spike in COVID-19 cases.
The push to mask up came as health officials urged county residents to push past the virus' 10-day incubation period upon returning to work and school following the New Year's holiday.
"Ten days of mask wearing as many return to work and school can slow transmission, minimize disruptions to work and learning," L.A. County Public Health Director Barbara Ferrer said, according to ABC 7 News in Los Angeles. 
"Protect those most vulnerable and help make sure hospitals do not become overwhelmed," she added.
LOS ANGELES COUNTY MAY REIMPOSE INDOOR MASK MANDATE IF COVID TRANSMISSIONS CLIMB
The Los Angeles Times, reporting on health officials' guidance, quoted Ferrer as saying, "there is a good likelihood many more people have been exposed" since transmission levels remain high in the area.
Masks were notably absent from Tuesday's Golden Globes, however, with the notable exception of actress Jessica Chastain, who earned praise from some on social media for donning a bejeweled face mask and a matching Oscar de la Renta gown.
"Best mask clearly goes to Jessica Chastain… who said COVID-19 protocols can't be fashionable?" Yahoo Entertainment writer Taryn Ryder tweeted Tuesday.
EDDIE MURPHY JOKES ABOUT WILL SMITH'S INFAMOUS OSCARS SLAP WHILE BEING HONORED AT THE 2023 GOLDEN GLOBES
Fans called Chastain's matching mask "adorable" and "fashionable" while others criticized her for wearing a mask before the ceremony while the mask was notably absent in several of her on-camera appearances while posing with others indoors during the night.
Some Twitter users called out the Golden Globes for foregoing a mask mandate with one user writing "I wonder why there wasn't a mask mandate at the golden globes last night?"
"Not a mask in sight at the golden globes 2023," another called out, adding that COVID-19 "doesn't effect [sic] the elites or awards shows."
A third user slammed the ceremony as well, writing, "10 days ago, LA county recommended mask mandates for 10 days to stop the COVID spread. Tonight Hollywood is hosting the Golden Globes… Not a single mask [in] sight. Remember: these people never, ever think the rules apply to them."
GOLDEN GLOBES: 'YELLOWSTONE' STAR KEVIN COSTNER SAYS HE HAD TO MISS CEREMONY DUE TO FLOODING AFTER LA STORMS
Hospitalizations related to COVID-19 were declining in Los Angeles County as of Dec. 31, according to a report from The Los Angeles Times, but infection rates had more than doubled since mid-November.
Experts claimed infection rates could be higher than reported due to residents failing to get tested for COVID-19 or failing to report their positive test results.
Last month, the county entered the federal government's "high" COVID-19 community activity category, but local health officials held off on mandating masking despite encouraging county residents to mask up indoors. 
Fox News' Julia Musto contributed to this report.
https://www.foxnews.com/media/stars-snub-los-angeles-county-mask-guidance-golden-globes