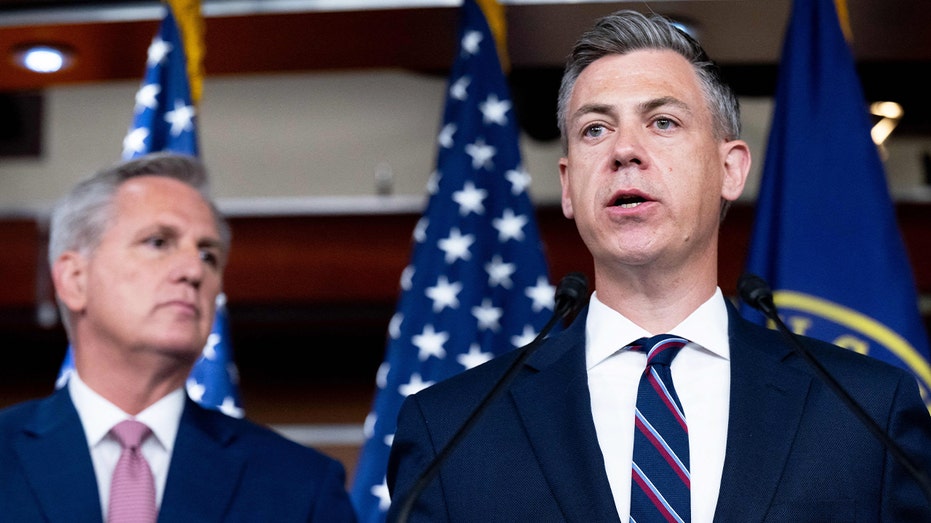 EXCLUSIVE: House Republican lawmakers are asking the Drug and Enforcement Administration (DEA) and Customs and Border Protection (CBP) to do more to get xylazine, sometimes called the "zombie drug," off streets where drug dealers are abusing the substance by combining the animal tranquilizer with fentanyl for a deadly combination, exacerbating the fentanyl crisis.
Reps. Jim Banks, R-Ind., Kat Cammack, R-Fla., and August Plfuger, R-Texas, wrote to DEA Administrator Anne Milgram and Acting CBP Commissioner Troy Miller Monday in a letter reviewed exclusively by Fox News Digital, asking the agencies to schedule xylazine, the animal tranquilizer drug, to properly recognize the drug as "the threat that it is." 
The lawmakers called government's response so far to the damage the drug is causing is "wholly inadequate." Banks says if the White House fails to address the problem, House Republicans will introduce legislation. 
"For once, I hope the Biden administration moves quickly to fight the deadly drug crisis in this country. If they don't, House Republicans will introduce legislation to schedule Xylazine," Banks told Fox News Digital in a statement. 
NEW HAMPSHIRE GOV. SUNUNU ISSUES WARNING ON FENTANYL POISONINGS: 'CARTEL-DRIVEN CRISIS'
"The fentanyl crisis has already inflicted significant damage on our treatment clinics and programs, public health agencies, and our entire medical system," the lawmakers wrote. "The addition of yet another highly toxic and addictive substance to the illicit drug supply will only further escalate this crisis. It is of the utmost importance that all relevant agencies mount an active and energetic response to this emerging threat."
"As you may know, xylazine, also known by street names 'tranq' and 'zombie drug,' has emerged as an increasingly popular drug to combine with fentanyl to intensify drug effects and lower costs," the lawmakers wrote. 
"The effects of xylazine are devastating and include severe necrotic skin ulcerations that often lead to amputation, and severe withdrawal symptoms that leave users trapped in a vicious cycle of addiction," they said.
According to the lawmakers, the drug is not detected by current toxicology screens, and, in cases of overdose, naloxone is not known to be effective.
KIDS UNDER 14 ARE DYING OF FENTANYL POISONING FASTER THAN ANY OTHER AGE GROUP: ANALYSIS
The lawmakers say that significant amounts of xylazine have already been found in drug samples in 36 states and the District of Columbia. Hospitals from across the country are reporting an increase in the prevalence of the drug.
In New York City, xylazine has been found in 25% of drug samples, though health officials say the actual number is likely much higher, the lawmakers claim. One estimate, the say, done in Philadelphia in 2021 found xylazine present in over 90% of fentanyl and heroin samples.
The lawmakers are asking the DEA to start the process of scheduling xylazine, according to the Controlled Substance Act if that process has not already been started, and for further details related to what the DEA is planning to stop xylazine's illicit use. 
SNAPCHAT LAWSUIT ALLEGES 8 FENTANYL DEATHS ACROSS 6 STATES RESULTED FROM PILLS PURCHASED THROUGH APP
According to the DEA, "substances are placed in their respective schedules based on whether they have a currently accepted medical use in treatment in the United States, their relative abuse potential, and likelihood of causing dependence when abused."
The House Republicans are also asking to what extent CBP is scrutinizing shipments from China.
The agencies have until Jan. 20 to respond. 
https://www.foxnews.com/politics/house-republicans-ask-dea-cbp-help-get-zombie-drug-off-streets