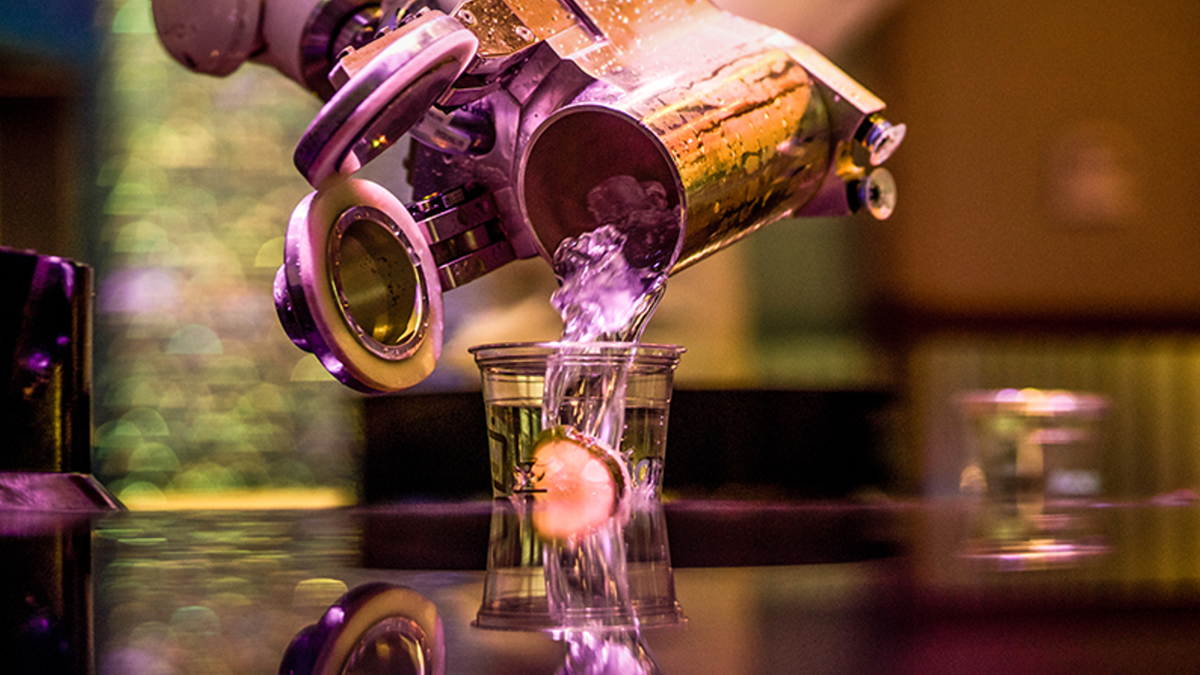 A robot-operated bar in Las Vegas pushed back on a viral TikTok video complaining about an automatic 10% service charge added to the bill.
"I normally wouldn't mind an automatic 10% tip for making my drink, but you're a robot," content creator Uptin can be heard saying in a video that has now garnered 1.2 million views. 
Uptin claimed that there was no way to opt out of the charge from Las-Vegas based bar "Tipsy Robot," suggesting that he was forced to tip his robot servers. He also claimed about the lack of ice in his drink due to a broken machine. 
Comments on the video ranged from condemnation of the bar to jokes about the tech controversy. 
WHITE CASTLE HIRING ROBOTS TO 'GIVE THE RIGHT TOOLS' FOR SERVING MORE 'HOT AND TASTY FOOD': VP
"The service is it won't judge you for ordering a vodka cranberry," Jason Uribe Vasquez said. 
"Not tipping your robot server is robophobic [sic], Sosep Hatfield chimed in. 
TikToker Learn English Every Day joked that refusing to tip would activate Skynet, while another said Uptin should tip the robot because it has a wife and two sparkplugs at home. 
Speaking with Fox News Digital, Tipsy Robot Las Vegas General Manager Victor Reza said it was "very frustrating" to see people post just seconds of content to "get attention and go viral" without inquiring with the company.
"Unfortunately, these types of posts do not reflect the reality and 'going Viral' is a Business for Uptin and 'content creators," he said.
He noted that the bar has eight employees that all work on an hourly rate and most of which have worked at the company for over 4 years, a rare occurrence in Las Vegas. They are tasked with greeting customers, helping them place their orders, use various payment methods, work to ensure the robots are working properly and engaging in general cleaning and maintenance. 
RUSSIAN CHESS ROBOT BREAKS CHILD'S FINGER DURING MOSCOW MATCH
Reza stated that the total amount of the service charge is collected by the company and disbursed to all employees, except for management which is not entitled to tip by law.
"Many customers ask about that service charge and when our employees explain to them as I did, well, they often add some cash tips and gladly place their order," he added. 
The increased implementation of robots in service industries has sparked praise and controversy over the last several years. 
In December, McDonald's opened its first automated restaurant in Fort Worth, Texas. The location uses technology to minimize human interaction when ordering and picking up food. 
Social media response indicated people did not universally agree whether this was a positive or negative change: Some people celebrated the innovation as a move towards faster and more accurate orders, but others took a more cynical position and predicted that it would lead to a loss of "millions of jobs."
Three months earlier, a group of Stanford graduates opened a San Francisco restaurant where robots serve up meals for a low price. 
Mezli co-founder and CEO Alex Kolchinski said the Mediterranean restaurant is "fully autonomous."
https://www.foxnews.com/media/las-vegas-robot-bar-viral-tiktok-video-at-odds-over-automatic-tips-frustrating-lies