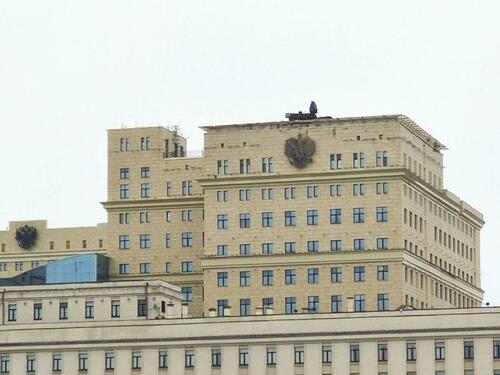 Pantsir Air Defense Systems Erected On Several Moscow Rooftops
Viral videos and photographs show that Russia has stationed missile defense systems on several Moscow building rooftops.
Taking note of some of the photos, The Drive writes that the "Russian military appears to have emplaced Pantsir air defense systems on top of at least two different government buildings in Moscow, including the Ministry of Defense's headquarters."
One video showed very large cranes lifting the entire surface-to-air battery from ground level to the top corner of a sprawling building. The Pantsir system can defend against everything from aircraft missiles to cruise missiles or drones.
The Drive continues, "The official reason for the apparent deployments is unclear, but Ukrainian forces have demonstrated their ability to conduct strikes at extended ranges using various types of drones. There could be other explanations, including this just being part of an ostensible exercise of some kind."
Recent months have seen Ukraine send deadly drones an impressive 600km deep into Russia to attack the Engels military airfield. This suggests that other cities far from the Ukraine border could be vulnerable to attack.
Russians put Pantsir-S1 anti-aircraft system to roof of building in Moscow. pic.twitter.com/AsMTdqJGVw

— ZOKA (@200_zoka) January 19, 2023
The Moscow Times observed that "On Friday, reports emerged that another likely Pantsir-S1 system had been spotted 10 kilometers from President Vladimir Putin's official residence in Novo-Ogaryovo outside Moscow this month."
The report added, "They follow sightings of S-400 anti-aircraft missile systems at a national park and a testing ground in north and northeastern Moscow."
The Kremlin has remained mum when asked about the anti-air systems being placed on buildings in Moscow on Friday.
⚡️Pantsir-S1 anti-aircraft systems being placed on the roof of building in Moscow.

Is this the plan? pic.twitter.com/FLA96HXxrP

— War Monitor (@WarMonitors) January 19, 2023
Like with other countries and their most sensitive government facilities, it's likely being done out of an abundance of caution, especially given the escalating war in Ukraine and growing showdown with NATO and the US.
On Friday the Russian military reported more gains in eastern Ukraine, announcing via TASS the capture of Klischiivka town, which lies on the outskirts of Bakhumut, which is the main strategic prize in the region now being fiercely fought for. There are reportedly heavy casualties on both sides amid the grinding fight for Bakhmut and the surrounding area.
Tyler Durden
Fri, 01/20/2023 – 18:40
https://www.zerohedge.com/military/pantsir-air-defense-systems-erected-several-moscow-rooftops