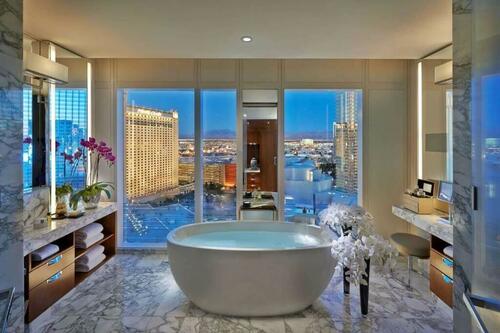 Vegas Hotels Hit With Lawsuit, Claiming Collusion Via Algorithm To Artificially Inflate Hotel Prices
A lawsuit filed in federal court in Nevada alleges hotel operators on the Las Vegas Strip colluded to overcharge visitors for rooms through an algorithm designed to artificially inflate prices above competitive levels, Las Vegas Review-Journal reported.
Caesars Entertainment, Treasure Island, Wynn Resorts Holdings, and MGM Resorts International were named in the suit for allegedly sharing a price algorithm to set hotel rates instead of making "independent pricing and supply decisions," according to the lawsuit, filed Wednesday.
The operator of the algorithm, Rainmaker Group Unlimited, a revenue management firm owned by Cendyn Group, was also named as a defendant for allowing "algorithmic-driven price-fixing … at the expense of consumers and in violation of antitrust laws." 
Two people, one from Washington state and another in Florida, filed the lawsuit. Both stayed in the defendants' hotel rooms and claimed the shared pricing data allowed hotel operators to "defy supply and demand dynamics." 
"Our antitrust attorneys have uncovered what appears to be an unlawful agreement in which Rainmaker collects and shares data between Vegas hotel competitors to unlawfully raise prices of hotel rooms," plaintiffs' attorney with Seattle-based law firm Hagens Berman wrote in a statement. 
"What happens in Vegas will no longer stay in Vegas. We intend to expose the under-the-table deals perpetrated by these Vegas hotels, and we intend to hold them accountable," the attorney continued. 
The plaintiffs' lawsuit quoted confidential witnesses, a Rainmaker executive and two former employees, who estimated 90% of Vegas hotels use Rainmaker's algorithm. 
Rainmaker "collects confidential price information from each of the hotel operators, and then tells them, through use of various algorithms, how to price," the lawsuit alleged.
"The suit is the latest in a growing wave of antitrust cases to take aim at algorithmic models or data brokering services allegedly used to facilitate price coordination across an entire industry. The allegations echo dozens of recently filed suits hitting the country's top residential landlords with similar claims," Tyler Durden
Fri, 01/27/2023 – 20:05
https://www.zerohedge.com/markets/vegas-hotels-hit-lawsuit-claiming-collusion-algorithm-artificially-inflate-hotel-prices