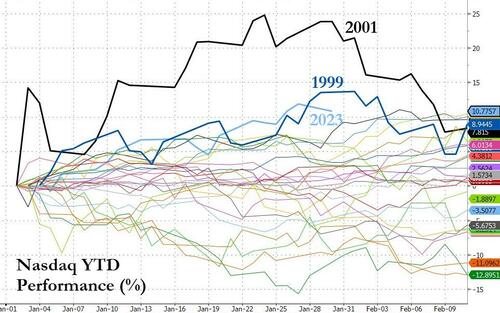 Tech Layoffs Accelerate Despite Nasdaq's Best Start To Year Since 2001
Technology-heavy Nasdaq is experiencing one of its best months in two decades despite accelerating mass job cuts at tech firms and increasing risk of recession. 
The Nasdaq Composite Index is up 10% so far this month, on track for its best January performance since 2001, when it recorded a 12% gain. 
Stocks are flying ahead of the Wednesday FOMC meeting. What could derail optimism is Fed Chair Powell re-emphasizing that the rate hike cycle isn't over, which would force financial conditions to retighten. 
Many traders today weren't around for the Dot Com bust. As soon as February 2001 hit, Nasdaq resumed its tumble and plunged nearly 30% through the rest of the year. 
Another repeat of early 2001 could be in the cards if the Fed maintains its uber-hawkishness, earning season disappoints, and recession risks continue to flourish. 
One ominous sign of financial stress among tech firms is the accelerating headcount reduction to start the year, a move to improve profitability amid recession threats. 
So far this month, big tech firms, including  Amazon, Google, Microsoft, Salesforce, IBM, and others, have laid off more than 52,000 jobs, according to Bloomberg data.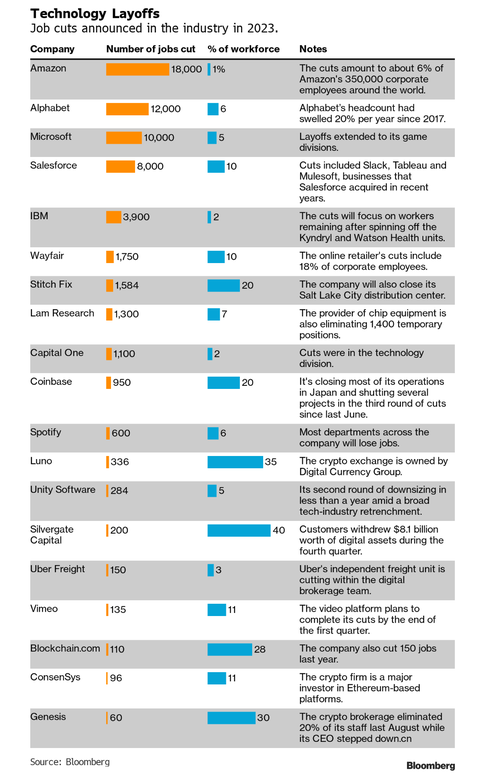 Additional jobs data from Layoffs.fyi shows 229 tech firms (big and small) laid off a total of 68,502 employees this month. Last year, 1,040 tech companies fired 160,000 employees. 
What's evident is that tech firms are under pressure, but shares in companies are surging, leaving some to believe the latest up move could be a bear market rally. 
Tyler Durden
Tue, 01/31/2023 – 06:55
https://www.zerohedge.com/markets/nasdaq-set-record-best-start-year-2001-tech-layoffs-accelerate