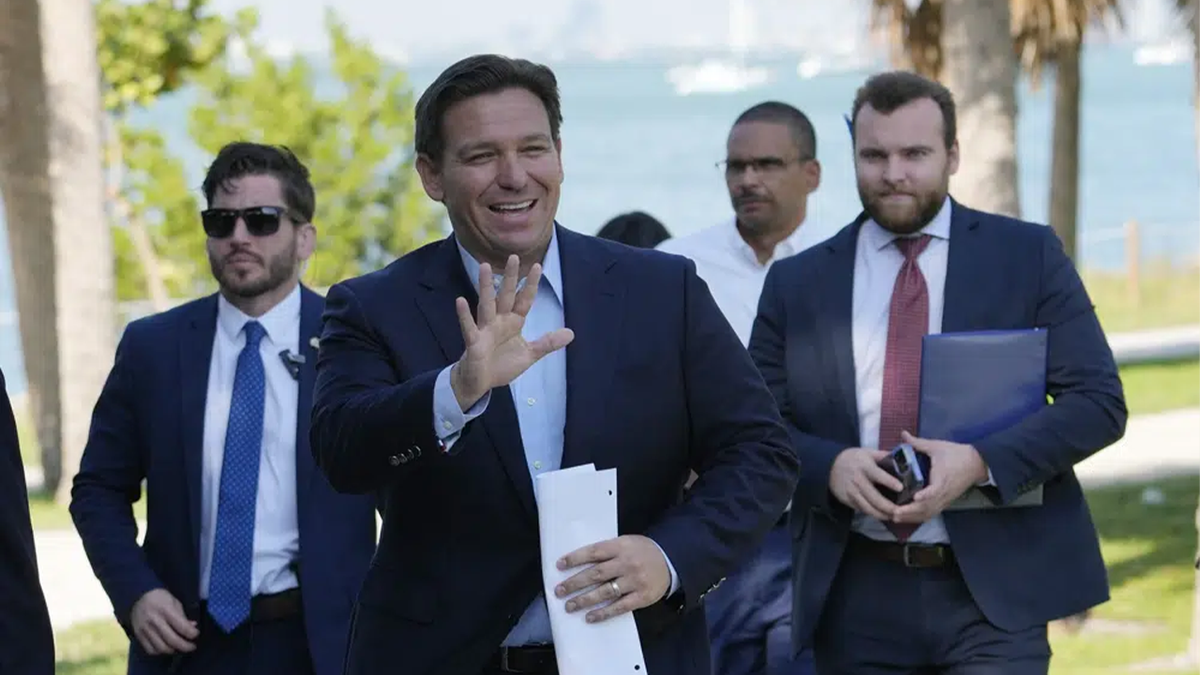 Florida Governor Ron DeSantis has completed his so-called "public safety tour" to New York, Pennsylvania, and Illinois – all current blue states. Did he get what he wanted? 
He did – and the Democrats gave it to him. 
Obviously, the tour was devised to raise the Governor's national profile for the 2024 presidential race. He'll be facing a crowded field of Republican candidates – former president Donald Trump among them.
DESANTIS BLASTS 'MEDIA LIES' ABOUT FLORIDA'S EDUCATION POLICIES: 'BOOK BAN HOAX'
DeSantis knows he needs to start early to build national recognition anywhere near Trump's. He also knows that public safety has become a major talking point in our public discourse, as America's cities seem preordained to chaos thanks to "criminal justice reform."
Now, the governor could have stayed at home in Florida and touted his record on friendly territory. But he instead chose to go into three blue states – albeit to red-leaning enclaves – to hold rally-type meetings and to elicit a response. It was a Trumpian move, and a new national look for DeSantis – the provocateur at-large. 
But would it work?
In New York City, where major crime rose 22% last year, Mayor Eric Adams' tweeted this response:
"Welcome to NYC, @GovRonDeSantis, a place where we don't ban books, discriminate against our LGBTQ+ neighbors, use asylum seekers as props, or let the government stand between a woman and health care."
In Illinois, which recently enacted a slate of criminal justice measures that mirror many of New York's more wrongheaded reforms, Governor J.B. Pritzker responded to DeSantis thusly: "He does not represent the values of the people of Illinois. … In fact, he's the antithesis to that. He's demonstrated that he's homophobic, that's he's got tendencies that provoke racism." 
In Chicago, where crime is returning to 1990s levels, Mayor Lori Lightfoot piled on, calling DeSantis, "a right-wing demagogue … racing to the bottom to outdo Trump." 
Where is the public safety message in any of this?
In short: Adams, Pritzker and Lightfoot took the bait. Rather than engaging on the very issue that DeSantis is fronting – and thereby potentially blunting it – the three Dems defaulted to the culture war talking points that currently embody the left's least popular positions. 
For instance, Adams's charge of "banning books" references DeSantis's efforts to remove critical race theory from Florida's schoolbooks and curriculum. 
His charge of discriminating against "our LGBTQ+ neighbors" refers to Florida's law prohibiting the teaching of explicit sexual content to students in third grade and younger. 
The claim that DeSantis uses "asylum seekers as props" references the governor's sending a planeload of migrants to Martha's Vineyard, where the pearl-clutching among the 1% descended (predictably) into parody. 
And the charge of letting "government stand between a woman and health care" goes to Florida's current law prohibiting abortion after the fifteenth week of pregnancy. 
At least Adams enumerated his gripes. Pritzker and Lightfoot did little more than name call.
This is no way to win over voters.
Yes, DeSantis famously stated that "Florida is where woke goes to die." And these three Democratic leaders find his positions abhorrent. But that wasn't the point of the DeSantis tour. 
CLICK HERE TO GET THE OPINION NEWSLETTER
The result is that these Democrats fully ceded the public safety issue to DeSantis. On their home turf, DeSantis delivered a message that must surely have resonated with moderates who are worried about crime and disorder. As such, Adams, Pritzker, and Lightfoot allowed the Florida governor to define the issue's two sides and to steal the home-field advantage (Pennsylvania Dems have thus far wisely avoided responding similarly). 
DeSantis also began the task of stealing something else: the role of public safety standard-bearer for the right. Unlike several other GOP presidential wannabes, he has a genuine public safety record to run on, as he touts the "50-year low" in Florida's crime rate. And his new slate of criminal justice reforms strengthening bail laws and targeting fentanyl, human trafficking, and child predators – likely to pass the legislature in the coming months – will only consolidate that advantage.
Obviously, it is still very early to be talking 2024. And Adams, Pritzker and Lightfoot are not fully representative of the Democratic Party (although all three have made statements indicating they sometimes believe they are). 
But this "public safety tour" was undeniably a successful, low-cost move by the Florida governor, demonstrating keen political instincts. 
We can expect more such moves from DeSantis on this topic. They will require a far better response from the left, and a commensurately effective response from the right – including from a certain former White House occupant who's no stranger to rallies of his own. 
CLICK HERE TO READ MORE FROM PAUL MAURO
https://www.foxnews.com/opinion/heres-how-desantis-schooled-top-democrats-their-own-blue-states