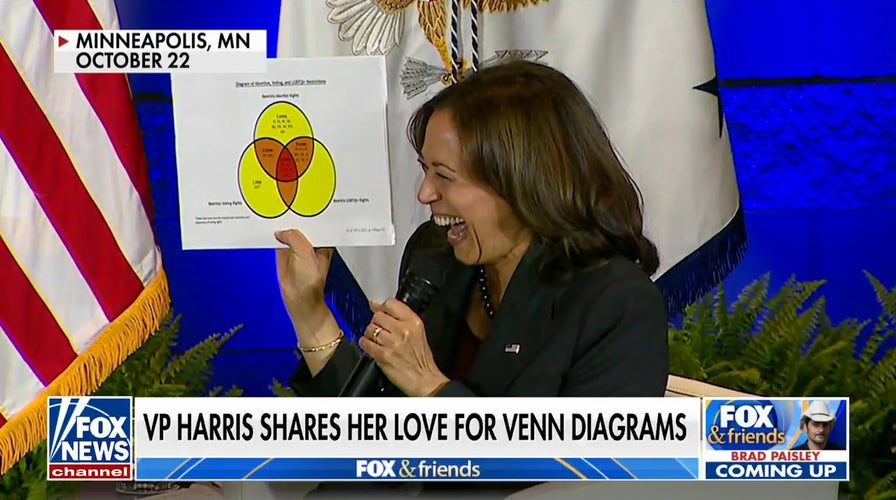 Vice President Kamala Harris has once again bizarrely professed her love for an elementary school tool: the Venn diagram.
"I love Venn diagrams," the vice president said at a White House event Thursday. "Always ask, 'Is there a Veen diagram for this?' I'm telling you, it's fascinating when you do. So, Venn diagram, those three circles, right?"
"Fox & Friends" co-hosts Steve Doocy, Brian Kilmeade and Ainsley Earhardt discussed Harris' enthusiasm about the comparison tool Friday after she mentioned it when discussing the need to invest in clean energy. 
"When you peak in third and fourth grade and become vice president, we're doomed," Kilmeade remarked.
REPUBLICANS UNVEIL EFFORT TO REMOVE BIDEN ADMIN'S BARRIERS BLOCKING OIL AND GAS DRILLING
Earhardt described Harris as "a Venn diagram enthusiast" as the hosts reflected on several past incidents where the VP fawned over the circle illustrations.
"The Venn diagram brings so much delight to her," Earhardt commented.
Doocy noted Harris appears to mention Venn diagrams any time there is something on her agenda to discuss, ranging from voting rights to gay rights.
"At first it's, like, funny. Like, what is she talking about? A funny soundbite? And then you watch that whole montage, and it's just bizarre," Earhardt said.
Kilmeade warned this kind of behavior from President Biden's next in command is one of the reasons "Democrats are panicking."  
"She is so unfit for that office and unserious and doesn't do any of her work," he argued.
"She's all over the place. And the thing is, everyone's good at certain things, but you have to be able to study. I don't think she puts the time in to anything."
On "Hannity" Thursday night, host Sean Hannity, Fox News Radio host Jimmy Failla and FOX Business co-hosts Dagen McDowell and Sean Duffy sounded off on the Harris event, focusing further on the vice president's affection for simple diagrams.
Hannity characterized the situation as "another blunder-filled day" for Harris, and compared her previous Venn diagram references to a March 2022 event in St. Landry Parish, La., where the vice president spoke repetitiously about the "significance of the passage of time."
"The audience had to be reminded to clap for the vice president," Hannity said. "You really can't make this up."
"They still didn't clap, then it got worse with yet another rant about Venn diagrams," he added, pointing to other clips of Harris speaking about Venn diagrams.
"I don't know what she likes better: Venn diagrams or giggling," Hannity added.
Failla riffed that the kicker to Harris' Venn diagram discussions is that Biden must believe the term is instead "a guy named Ben Diagram."
McDowell added that Venn diagrams are a staple of elementary school education, saying that Harris liked to "talk to adults like they're children — it's really the other way around."
Fox News' Charles Creitz contributed to this report
https://www.foxnews.com/media/kamala-harris-mocked-repeatedly-sharing-love-venn-diagrams-bizarre