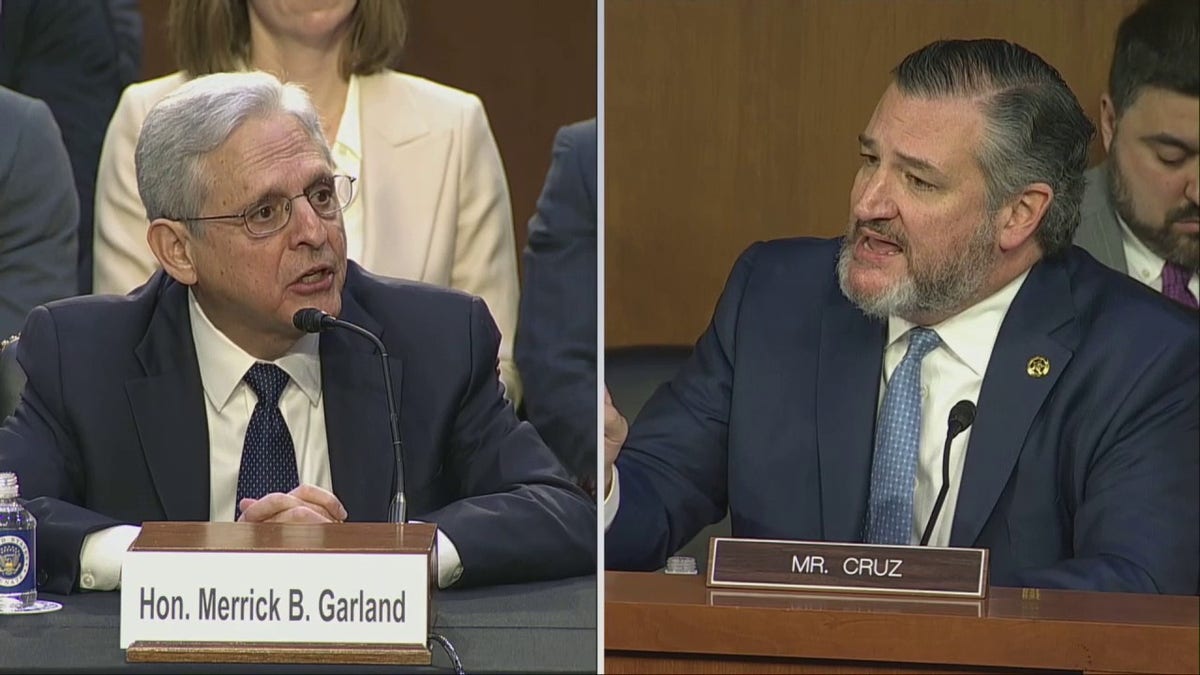 Sen. Ted Cruz, R-Texas, got into a heated exchange with Attorney General Merrick Garland during a Senate Judiciary Committee hearing on Wednesday.
Cruz accused Garland of politicizing the Justice Department and prosecuting pro-life groups and conservatives more aggressively than liberal groups. Cruz cited mass protests outside the homes of conservative Supreme Court justices after the Dobbs v. Jackson decision leaked last year.
"Have you brought a single case against any of these protesters threatening [Justice Brett Kavanaugh]? Have you brought even one?" Cruz asked.
"Senator, you asked me whether I sat on my hands and, quite the opposite. I sent 70 United States Marshals to defend—" Garland said before being cut off.
ZERO ARRESTS IN AT LEAST 17 JANE'S REVENGE ATTACKS ON PRO-LIFE ORGANIZATIONS
"Let me try again. Has the Department of Justice brought even a single case under the statute? It's a yes-no question. It's not an [invitation to] give a speech on those other things you did," Cruz said.
"The jobs of the United States Marshalls is to defend the lives of—" Garland said, once again getting cut off.
LETTER SIGNED BY RADICAL ABORTION GROUP JANE'S REVENGE DECLARES 'OPEN SEASON' ON PRO-LIFE PREGNANCY CENTERS
"So the answer is no," Cruz said, taking over Garland. "The answer is no. Why aren't you willing to say no? You know it's no; I know it's no; everyone in this hearing room knows it's no. You're not willing to answer the question. Have you brought a case under the stature, yes or no?"
"As far as I know, we haven't," Garland responded. "What we have done is defended the lives of the justices with 70 U.S. Marshalls."
The fiery exchange came just minutes after Sen. Mike Lee, R-Utah, also blasted Garland for failing to prosecute attacks on pro-life groups and Catholic churches across the country. Lee pressed Garland to explain why just two people had been charged with violence against pro-life groups despite more than 200 incidents being reported in the past year.
Garland responded that it was easier to prosecute violations at abortion clinics because those offenses typically take place during the day and are often filmed. Attacks on pro-life centers typically take place at night, he said.
https://www.foxnews.com/politics/cruz-accuses-garland-doj-politicization-ag-fires-back-fiery-exchange