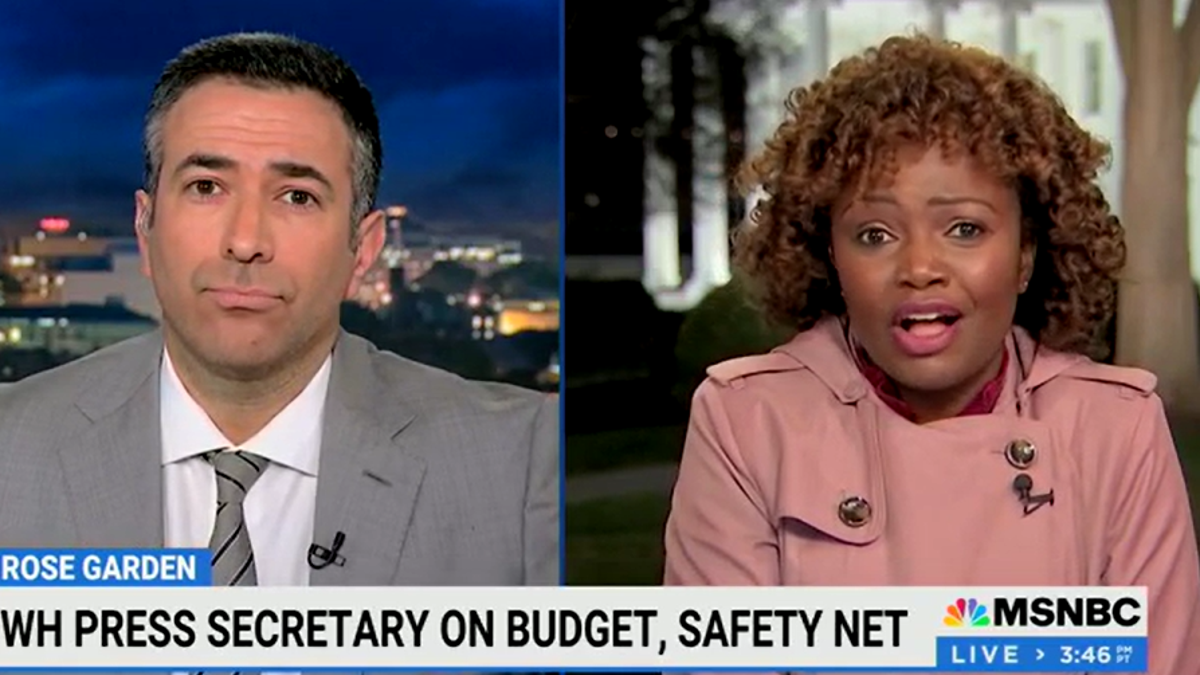 White House press secretary Karine Jean-Pierre slammed Republicans Wednesday while declaring that President Biden's economy "works for everyone and leaves no one behind."
On MSNBC's "The Beat with Ari Melber," Jean-Pierre hit conservative politicians for wanting to negotiate lifting the debt ceiling and declared, "We should not put the faith and the credit of our country hostage. That's not something we should be doing."
"If they want to have a conversation on how to lower the deficit, which is what the president has done the first two years by $1.7 trillion, if they want to have that conversation, we are open to it," she said. "But by saying that you want to cut Social Security, by saying you want to cut Medicare, by holding those two things hostage because you want to basically give $3 trillion to the wealthy, the uber wealthy, that's what you want to do, give tax relief to the uber wealthy? That's not what the president is about."
Jean-Pierre went on to make a series of claims about Biden's agenda and his upcoming budget.
MAJORITY OF DEMOCRATS DON'T WANT BIDEN TO SEEK RE-ELECTION, AS PRESIDENT WEIGHS SECOND TERM
"He's about fighting for Americans that have been left behind. He's about growing the economy from the bottom up, middle out. And that's what you're going to see," she said. "The president is going to put out his budget on March 9, it's going to be transparent. It's going to look like the president's priorities, talk through that. And he's asking House Republicans to do the same."
Melber then asked Jean-Pierre if she had "any response to Donald Trump appearing to agree with Joe Biden on Social Security? That doesn't happen that often in the news."
KANSAS SEN. ROGER MARSHALL SLAMS BIDEN'S SOTU, SAYS PRESIDENT 'PAINTED A ROSY PICTURE' OF AMERICA
Jean-Pierre responded, "It doesn't happen very often. Look, I'll say this, Ari, the president is going to fight. Americans need to know that the president is going to continue to fight for Social Security, he's going to continue to fight for Medicare and he's going to make sure this is an economy that works for everyone and leaves no one behind."
Jean-Pierre's claims about how the Biden economy works for everyone appears to be rejected by the voters themselves. According to a recent ABC News/Washington Post poll, 41% of Americans say they are worse off under Biden's presidency, while merely 16% say they are better off.
The press secretary echoed Biden when he drew jeers and boos at the State of the Union for his claims about Republican plans for Social Security and Medicare that have been fact-checked and debunked before. 
The idea that Republicans want Medicare and Social Security to sunset appears to have been based on a legislative agenda released by Sen. Rick Scott, R-Fla., in 2022. Scott proposed that "all federal legislation sunsets in 5 years. If a law is worth keeping, Congress can pass it again." He has since clarified this would not apply to Social Security and Medicare.
https://www.foxnews.com/media/karine-jean-pierre-parrots-debunked-entitlement-claims-touting-biden-economy-leaves-no-one-behind