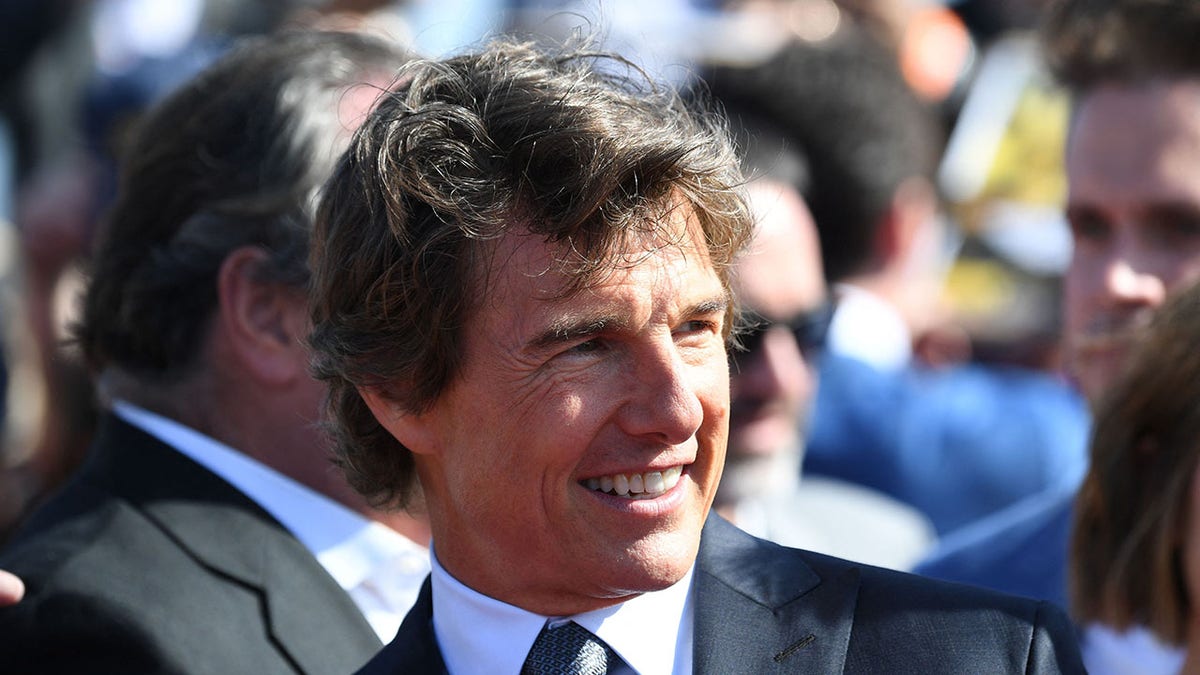 Tom Cruise helicoptered onto a U.S. aircraft carrier last weekend to shoot scenes for his upcoming film "Mission: Impossible – Dead Reckoning Part Two" off the eastern coast of Italy, the head of the Apulia Film Commission confirmed. 
The "Top Gun: Maverick" star flew into the port of Bari on the country's southeastern coast Saturday, where he spent the night at a five-star hotel before choppering to the floating set the next day, Antonio Parente, said Thursday. 
Parente told Variety the ship was headed north toward Croatia during the shoot, and Cruise is expected to leave from Bari at the end of the week. 
"Dead Reckoning Part Two" will be the eighth "Mission: Impossible" film for Cruise. The 60-year-old first played spy Ethan Hunt nearly 30 years ago in 1996's "Mission: Impossible." 
'TOP GUN: MAVERICK' STAR TOM CRUISE ADMITS HE 'CRIED' OVER 'EMOTIONAL' REUNION WITH CO-STAR VAL KILMER 
"We are proud that [the] Apulia [region] has been chosen as the operational base for this rather complex shoot," Parente told the outlet. 
The trailer for "Mission Impossible: Dead Reckoning: Part One," which is slated to be released in July, shows Cruise driving through European cities and riding a horse in the desert as a tie-wearing boss (Henry Czerny) tells him, "Your days of fighting for the so-called 'greater good' are over" as Cruise shakes his head in disagreement. 
Other shots from the action-packed trailer show him running on top of a moving train, getting ready to fly a warplane and driving off a cliff on a motorcycle.
"Dead Reckoning: Part Two" is expected to be a direct sequel to "Part One" and is scheduled to premiere in June 2024. 
The film is directed by Christopher McQuarrie and will also star Nick Offerman, Rebecca Ferguson, Vanessa Kirby and Hayley Atwell. 
"Part One" also shot scenes in Italy, including Venice and Rome, according to Variety. 
CLICK HERE TO SIGN UP FOR THE ENTERTAINMENT NEWSLETTER
Although reports have said that "Part Two" is expected to be Cruise's final 'Mission: Impossible" film, McQuarrie told the "Light the Fuse" podcast, "I've been working with Tom Cruise for 15 years, and I cannot tell you the number of times I've been standing next to the man, witnessed an event and then read about it in the trades the next day and none of what they describe is actually true." 
CLICK HERE TO GET THE FOX NEWS APP
He didn't confirm or deny the reports but did say he and Cruise will collaborate on another movie that is "gnarlier" than "Mission: Impossible." 
Cruise also shot much of last year's summer blockbuster, "Top Gun: Maverick," aboard aircraft carriers USS Abraham Lincoln and USS Roosevelt in San Diego. 
https://www.foxnews.com/entertainment/tom-cruise-filming-mission-impossible-8-scenes-u-s-aircraft-carrier