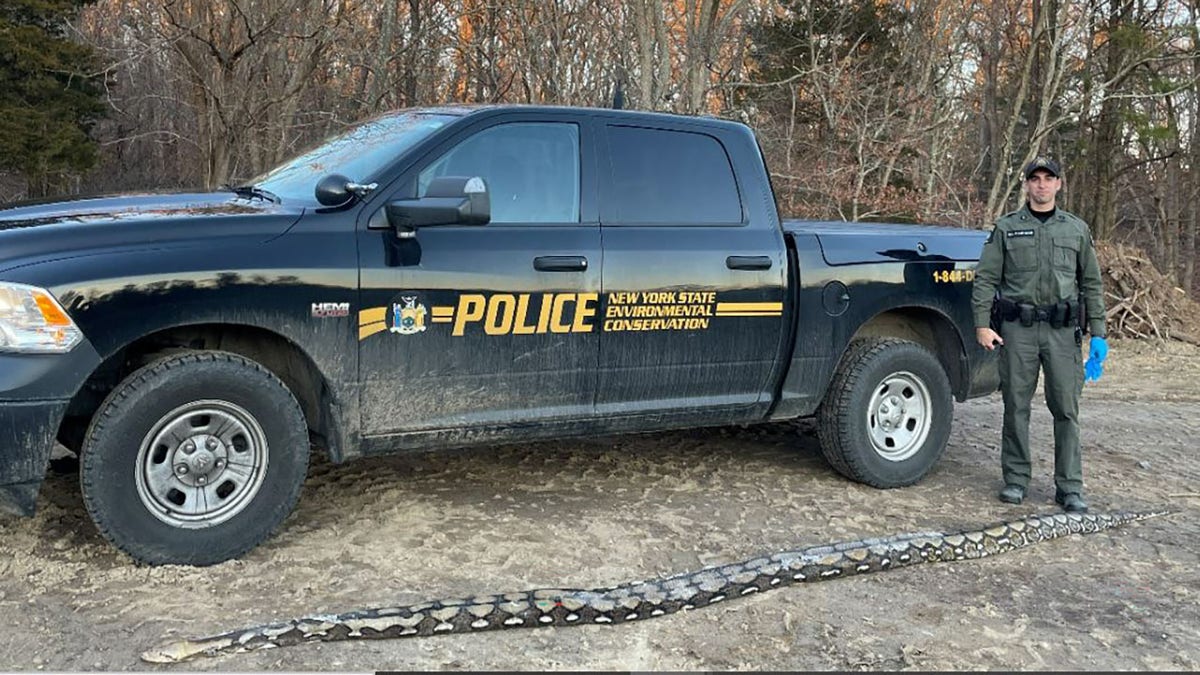 A 14-foot reticulated python was found dead on the side of the road in Long Island last month, the New York State Department of Environmental Conservation (DEC) said Thursday. 
The snake discovered on Feb. 14 was believed to be a pet, and DEC reminded residents the exotic reptiles are illegal to keep without a Dangerous Animal License. 
The reticulated python is the longest snake in the world and native to South and Southeast Asia. 
"Nothing to see here…" the department joked in a post that showed the massive snake's length in a photo with a DEC officer. "Just your average, run-of-the-mill 14-foot reticulated python on the side of the road on Long Island."
MISSING INDONESIAN GRANDMOTHER EATEN ALIVE BY 22-FOOT PYTHON
The snake spanned the entire length of the DEC pickup truck. 
Officers originally found the snake curled up in a ball and it was disposed of properly, the release said. 
An investigation into the snake's owner is ongoing. 
SOUTH FLORIDA RESEARCHERS USE GPS-FITTED POSSUMS AND RACCOONS TO CAPTURE INVASIVE PYTHONS: REPORTS
In rare cases, the python can grow to more than 20 feet and it typically weighs 30 to 40 pounds, according to the Florida Fish and Wildlife Conservation Commission. 
While not venomous, they can kill a person within minutes using their coils. 
"Reticulated pythons bite first," Cornell Professor Dr. Harry W. Greene told USA Today in 2017. "Literally within a few seconds," the snake wraps its body around the person, which would cut off the blood supply to their brain and asphyxiate them. 
"It would be extremely difficult for me to save my life without help," Greene said. "It wouldn't take very long and it would be awful."
CLICK HERE TO GET THE FOX NEWS APP
Last year, a grandmother in Indonesia was found dead inside a 22-foot python and in 2018 another missing Indonesian woman was eaten by a 23-foot python. 
https://www.foxnews.com/us/new-york-officials-find-14-foot-long-reticulated-python-side-road