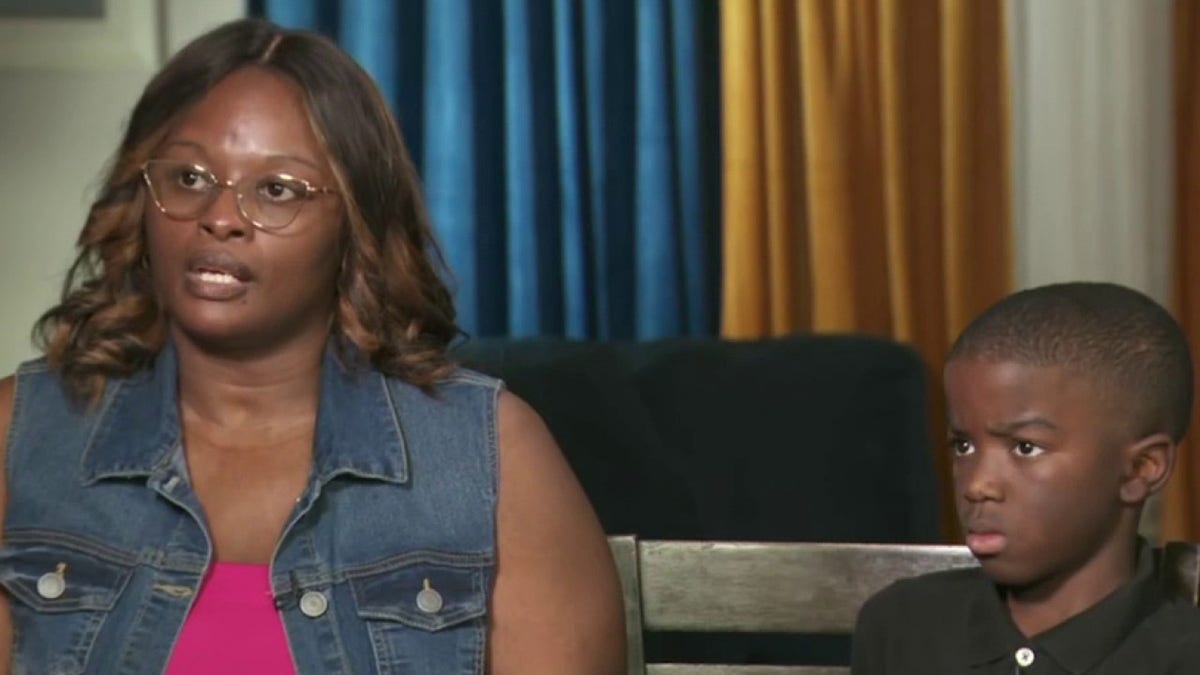 A Texas mother and her son spoke out after he was allegedly taped to his chair by a teacher as a reprimand for purportedly being disruptive in a hallway.
Charlotte Johnson and son Zye joined "Lawrence Jones Cross Country" on Saturday to recount the episode at his school in Forney, just east of Dallas.
The teacher, only identified as a female, reportedly taped down Zye Johnson and exited the room, leaving the boy to be purportedly assaulted by peers.
Charlotte Johnson told host Lawrence Jones she was notified of the incident by an administrator, and has since been seeking charges against the teacher, while seeking only suspensions and similar noncriminal reprimands for the students who allegedly struck her son.
LAWRENCE JONES: PUBLIC SAFETY HAS BECOME A 'POLITICAL FOOTBALL'
"[The administrator] had got word that Zye's teacher had taped him to the desk and the class was left unattended and some of the students assaulted him, like hitting him over his head with their fists and their hands," she said.
"She said that the teacher informed her that he was being disruptive in the hallway."
Jones noted the teacher reportedly confessed and that the crux of the matter now is why she did so.
"She confessed that she taped him, and she also told the principal she thought it was a joke," Charlotte Johnson said.
"I want to know what [Zye] did, but I want to know why would she do that, why she didn't call me if he was doing something he wasn't supposed to do. She just said he wouldn't be still. That was her only answer for me."
LAWRENCE JONES: NEW ORLEANS IS BECOMING AMERICA'S NEW MURDER CAPITAL
Zye Johnson recounted the situation in his own words.
"My teacher grabbed my arm, and she sat me down, and she had another student hold my arm while she held my other arm, and she taped me, and when she left out of the classroom, all the other classmates started hitting me."
Jones reported Forney school law enforcement concluded their investigation in one week's time, and that Kaufman County District Attorney Erleigh Norville Wiley determined no charges would be brought against the teacher because Zye was ultimately able to free himself from the bonds.
"The district has remained tight-lipped since the incident, but now revealed they have parted ways with the accused teacher," Jones said.
"Forney I.S.D. sets high standards for our educators, both in classroom instruction and in the fostering of a positive and supportive learning environment for all of our students. The teacher's conduct in this situation did not meet those standards, and the district has taken the necessary steps to address that failure and reinforce our expectations," Forney Independent School District wrote.
Charlotte Johnson later told Jones she is not satisfied with how Forney I.S.D. handled the incident, saying she wants charges pressed against the teacher, and that charges being purportedly considered against the students who allegedly assaulted Zye should not be brought.
"If this had been me as a parent and I did that to my child, I'd have already been in jail, my son and his siblings would be in foster care. I'm not understanding where you need to investigate it, especially if she verbally admitted it." 
"The school [is] talking about charges going to be brought against the students 10 and older. Me personally: They're children, you know, you're going to ruin their life," she said, adding she still has compassion because they're kids. 
While Zye has been placed in a different class, the Johnsons told Jones they plan to change schools after Spring Break.
Jones reported he reached out to Norville Wiley's office for comment and did not hear back by press time. 
https://www.foxnews.com/media/texas-mother-outraged-teacher-allegedly-tapes-son-chair-beaten-peers