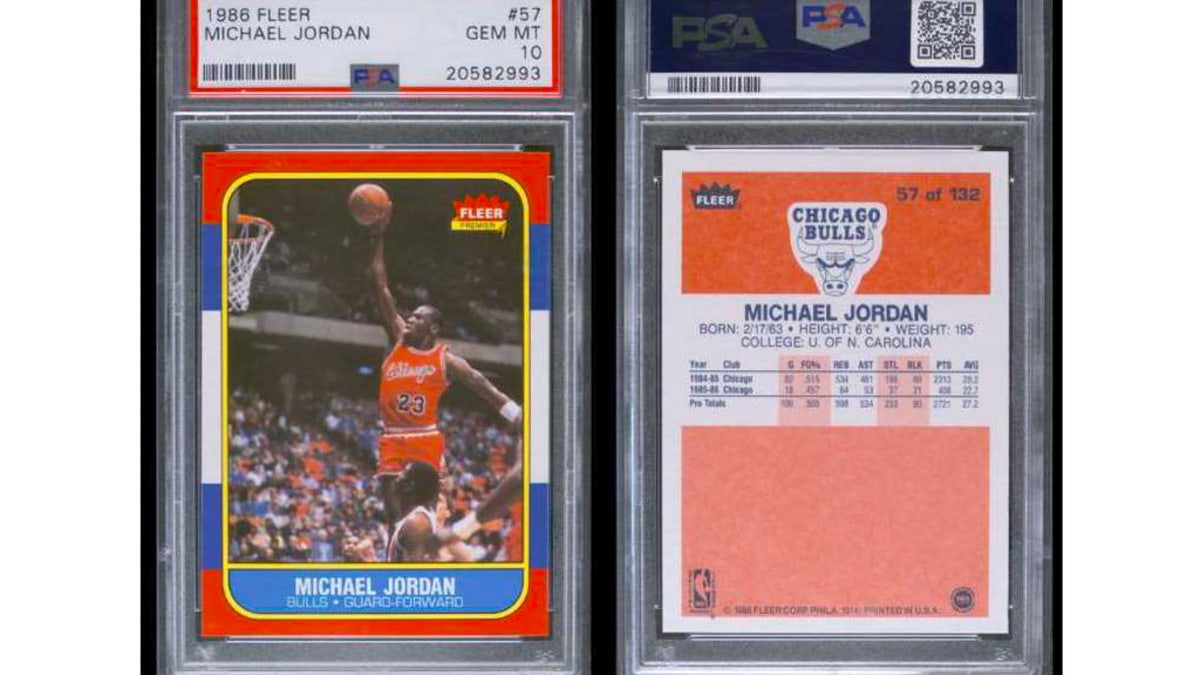 An elderly fraudster allegedly duped basketball card collectors with Michael Jordan cards that turned out to be slam junk.
Denver resident Mayo Gilbert McNeil, 82, is accused of bilking card collectors out of $800,000 by selling and trading phony collectible cards including fake 1986 Fleer-brand Jordan rookie cards – which can fetch thousands a pop.
"Mr. McNeil defrauded sports memorabilia collectors of more than $800,000 by intentionally misrepresenting the authenticity of the trading cards he was peddling when, in fact, they were counterfeit," Michael Driscoll, assistant director-in-charge of the FBI's New York field office, said in a news release.
McNeil is facing conspiracy to commit wire fraud charges, according to a complaint unsealed in federal court in Brooklyn. 
MISSING INDIANA 14-YEAR-OLD EMILY BARGER IS FOUND SAFE, WHILE POLICE ARREST YOUNG MALE
Authorities on Wednesday arrested McNeil in Denver, where he will make an initial appearance in U.S. district court. He will then be arraigned in the Eastern District of New York at a later date, according to the FBI. 
The NYPD worked with the FBI on the case, The New York Post reported.
ILLINOIS MAN ARRESTED IN CONNECTION WITH FATAL STRANGLING OF 23-YEAR-OLD WOMAN IN WISCONSIN
A 1986 Fleer Jordan rookie card sold for nearly $100,000 in 2020, graded at a 10 – or perfect/mint condition – by Goldin Auctions.
McNeill allegedly provided fake authenticity and grading scores for the cards as part of his dealings. He even obtained authentic, valuable cards for the fakes he had: He reportedly traded two fake Jordan cards for two authentic Tom Brady cards in 2017.
AIRLINE PASSENGER THREATENS TO KILL EVERYONE ON BOSTON-BOUND FLIGHT
He also made a deal with a resident in Manhasset, New York, for his cards, taking $4,500 home in 2019.
McNeil insisted to the Associated Press that he did "nothing wrong," declining to comment further.
The FBI's Business and Securities Fraud Section is handling the case, with the Department of Justice handling the prosecution. 
The Associated Press contributed to this report.
https://www.foxnews.com/us/michael-jordan-card-scam-nets-800000-for-82-year-old-fraudster-fbi