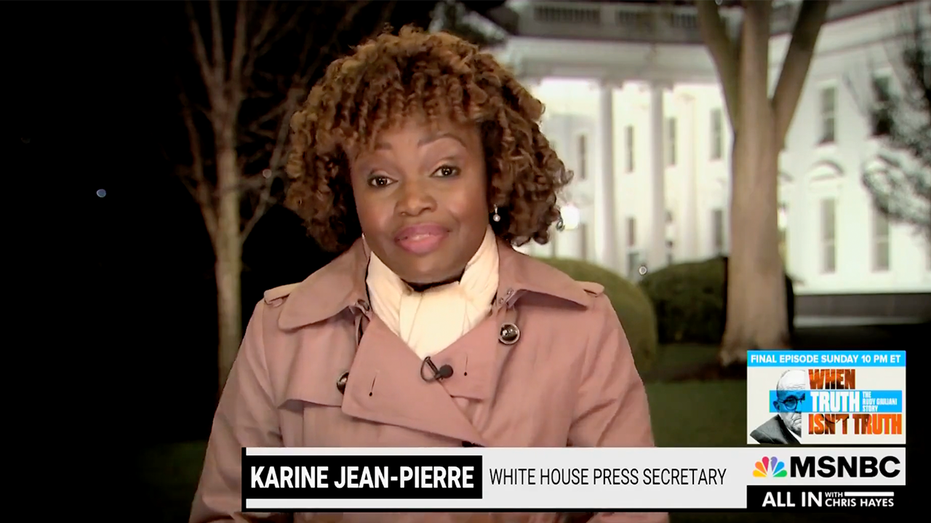 Critics ridiculed White House Press Secretary Karine Jean-Pierre for a recent awkward, meandering statement she gave on President Joe Biden's border policy during an episode of MSNBC's "All in With Chris Hayes."
During the cumbersome speech, Jean-Pierre discussed Biden's border security goals and accused former President Donald Trump of having "truly gutted" America's immigration system.
Internet users blasted Jean-Pierre for both her "word salad" and the substance of what she was saying.
WHITE HOUSE MOCKS MARIANNE WILLIAMSON'S RUN FOR PRESIDENT WITH 'CRYSTAL BALL' JOKE: 'IF I COULD FEEL HER AURA'
Jean-Pierre made the halting remarks during Friday episode of Hayes' political talk show. Touting the administration's current plan to secure the border, she began, "What we're going to promise is that we're going to do this. We're going to move forward with a, with this kind of system, this immigration system, that has been gutted, really truly gutted, by the last administration."
She continued, "We're gonna move forward and do it in a humane way. We're gonna do it in a safe way. And we're going to do it in the way that moves us forward. And so what we have been seeing, what we have been dealing with, again, is trying to fix the damage that the last administration do–did."
The government spokesperson wasn't finished. She added, "What we have done is we have opened the path to – we have opened the path to make sure that people have a way to get, to come through and to do it in a legal pathway."
The comments attracted significant criticism on Twitter.
Newsbusters news analyst Kevin Tober marveled, "I transcribed her answer and it's a complete word salad."
Conservative writer Doug Powers watched the clip and declared, "Emptier words have never been spoken by anybody not named Kamala Harris."
Right On Crime executive director Brett Tolman blasted Jean-Pierre, saying, "Word salad. More words. Talking."
Sen. Ted Cruz, R-Texas, special advisor for communications Steve Guest tweeted, "40 seconds of total nonsense from Karine Jean-Pierre about the border. How can she go on TV so often and be happy with an interview that goes like this?"
BIDEN TRIPS GOING UP AIR FORCE ONE STEPS AGAIN, SECOND TIME IN TWO WEEKS
Senator Bill Hagerty, R-Tenn., ripped the official for the substance of what she said. He tweeted, "'We've opened the path to make sure that people have a way to come through.' The Biden Administration says the quiet part out loud: They are making illegal immigration legal by not enforcing the laws on our books."
Doctor and Rep. Mariannette Miller-Meeks, R-Iowa, skewered Biden's border policies in response to the clip and Jean-Pierre's claim that the President is opting for a "humane" immigration policy.
She asked, "What's compassionate about 880 deaths crossing last FY? or 107,000 US opioid deaths (70% fentanyl or FA)? 1.2 M known gotaways that may be cartel or terrorists? or rape trees, child sex trafficking? How many more deaths or rapes before you end this humane path forward?"
House Speaker Kevin McCarthy's, R-Calif., deputy spokesperson Chad Gilmartin remarked on the clip, saying, "Not even the White House @PressSec can provide a clear defense of Biden's indefensible open borders agenda."
https://www.foxnews.com/media/karine-jean-pierre-torched-word-salad-defending-bidens-border-policy-40-seconds-total-nonsense