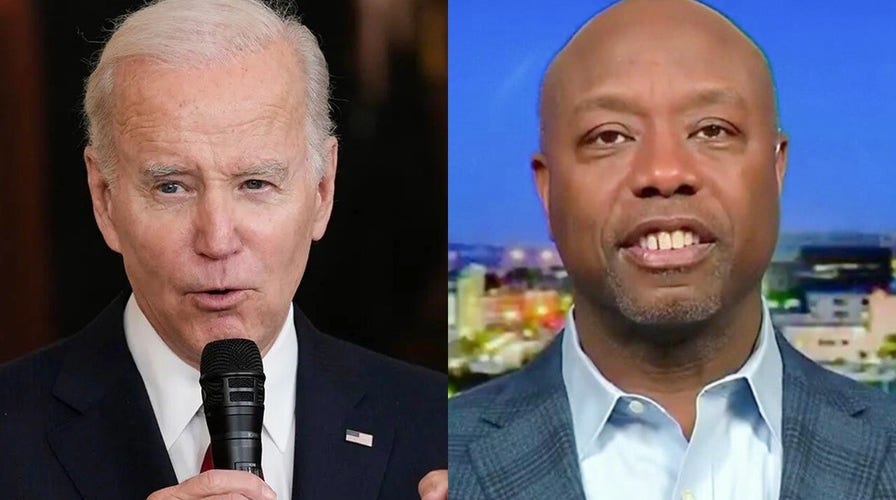 Senator Tim Scott, R-S.C., joined "Sunday Night in America" host Trey Gowdy to discuss the sudden bank failure of Silicon Valley Bank (SVB) in California on Friday and the role of regulators in preventing such incidents.
Scott was quick to point out that the regulators seemed to have been "asleep at the wheel" and failed to take timely action to prevent the collapse of SVB.
In a joint statement released Sunday afternoon, Secretary of the Treasury Janet L. Yellen, Federal Reserve Board Chair Jerome H. Powell, and FDIC Chairman Martin J. Gruenberg announced "decisive actions" to guarantee all deposits, including the uninsured funds.
SILICON VALLEY BANK COLLAPSE: KEVIN MCCARTHY SAYS LARGER BANK ACQUIREMENT MAY BE 'BEST OPTION' TO COOL MARKETS
"Today we are taking decisive actions to protect the U.S. economy by strengthening public confidence in our banking system," the joint statement read. "This step will ensure that the U.S. banking system continues to perform its vital roles of protecting deposits and providing access to credit to households and businesses in a manner that promotes strong and sustainable economic growth." 
Scott expressed concern over the Biden administration's decision to insure all deposits, including those over the $250,000 limit, which he believes would lead to corporate cronyism and send a negative message to the marketplace.
"We just heard recently that they're going to really have the greatest form of corporate cronyism that we've seen in a very long time. They're going to insure all the deposits, even the ones over the $250,000 limit, which means that the most sophisticated investors are now going to have the insulation of the federal government. That is problematic," Scott said. "It sends a very negative statement to the marketplace, and it is something that we're going to have to wrestle with over the next couple of days as we delve into what actually happened."
'SHARK TANK'S' KEVIN O'LEARY BLAMES SILICON VALLEY BANK COLLAPSE ON 'POOR MANAGEMENT'
The South Carolina senator went on to discuss that the root cause of the failure was high inflation, which led to high interest rates and caused more depositors to leave the bank than expected, ultimately resulting in its collapse. He criticized the Fed, regulators, and the management of the bank for their failure and stressed that the American taxpayer should not be held responsible for this failure.
Scott claimed, "The high inflation led to high interest rates, high interest rates meant that more depositors departed out of that bank quicker than they thought, leading to the collapse. We have failure at the Fed, failure at the regulators and failure with the management of that bank. We have a lot to uncover."
"The American taxpayer should not be on the hook for this failure. We're going to do everything in our power to make sure that doesn't happen," he added.
https://www.foxnews.com/media/biden-administration-silicon-valley-bank-collapse-corporate-cronyism-tim-scott