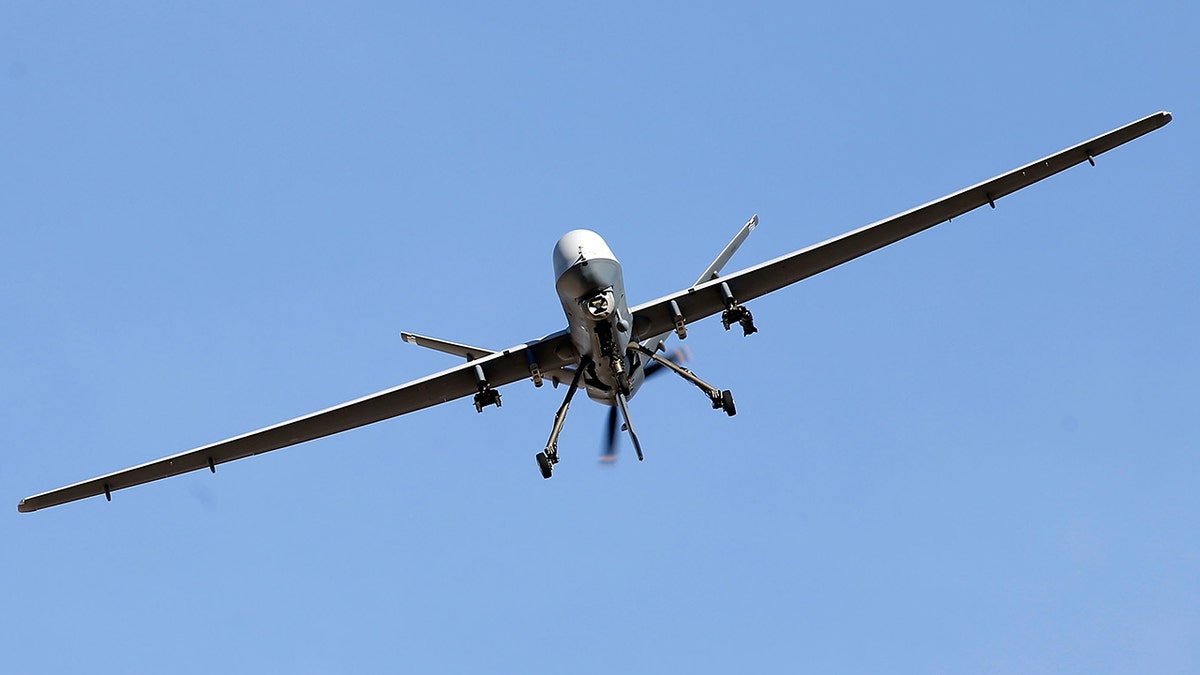 A race between the U.S. and Russia is underway to secure the debris of the drone that crashed into the Black Sea.
Russian officials announced Wednesday that operations were underway to collect the debris of the downed U.S. drone — the country has denied responsibility for the incident.
Military command officials said Tuesday that a Russian fighter jet dumped fuel on a U.S. drone over the Black Sea. The fighter jet allegedly clipped the drone's propeller while traveling in international airspace, causing the crash.
GOP SENATOR 'P—SED OFF' BY RUSSIA FORCING DOWN US DRONE: 'WE CANNOT ALLOW THAT TO HAPPEN'
National Security Council coordinator for strategic communications John Kirby told CNN Wednesday that the U.S. military has already moved to "protect our equities" and that they did not want anyone else "getting their hands on [the drone.]"
"Without getting to too much detail, what I can say is that we've taken steps to protect our equities with respect to that particular drone, that particular aircraft and its United States property," Kirby said. "We obviously don't want to see anybody getting their hands on it beyond us."
Russia has denied that the aircraft touched one another, and accusing the U.S. of unnecessarily escalating the issue.
"We assume that the United States will refrain from further speculation in the media and stop flights near Russian borders,"said Russian Ambassador Anatoly Antonov on Wednesday. 
RUSSIA BLAMES US FOR 'HOSTILE' FLIGHTS NEAR ITS BORDERS AFTER FORCING DOWN US DRONE
He claimed that the drone crashed after undertaking "sharp maneuvers," Reuters reports.
The details of the incident have been contested on multiple points, creating two separate narratives leading to the crash. 
Russian officials have claimed the drone did not have its transponder turned on while over the Black Sea. 
A former drone pilot told Fox News that U.S. drones always have their transponders turned on, except when flying in combat. Additionally, a MQ-9 Reaper drone is not a stealth aircraft, and it would be seen on Russian radar, the pilot said.
Two U.S. military fighter pilots, speaking with Fox News, disputed the idea that Russian jets could have dumped fuel on the drone. 
The pilots said any fuel the jet pilots could have been intending to dump would "vaporize instantly" when it hit the air. It would not have affected the drone or the flight.
Ukrainian officials have claimed the alleged incident is Russia's attempt to escalate U.S. involvement in the war.
"The incident with the American MQ-9 Reaper UAV — provoked by Russia over the Black Sea — is Putin's way of signaling his readiness to expand the conflict to involve other parties," said National Security and Defense Council Secretary Oleksiy Danilov. "The purpose of this all-in tactic is to always be raising the stakes."
https://www.foxnews.com/politics/russia-try-recovering-downed-us-drone-us-vows-protect-our-equities