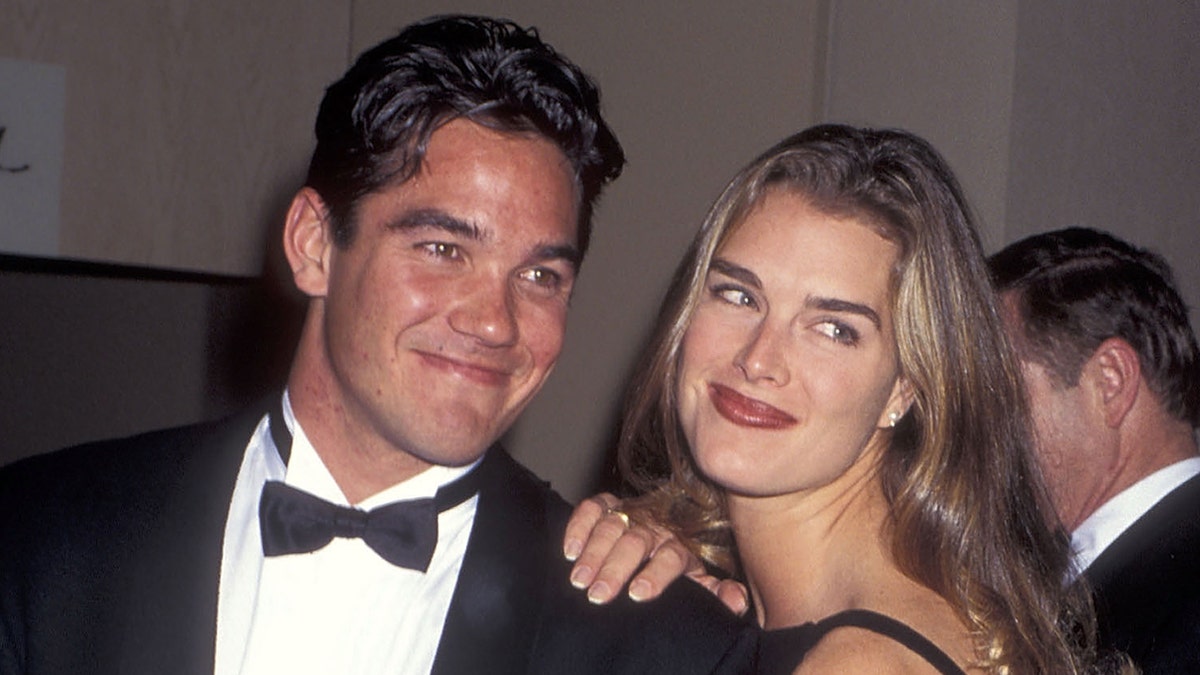 Brooke Shields and Dean Cain may have experienced young love, but the actress was experiencing guilt years later.
In a recent interview with People magazine, Shields shared that she apologized to Cain "a few years back" for not maximizing their time together during their college romance.
"I said, 'I'm sorry for you, and I'm really sorry for me,'" she said.
Shields, 57 and Cain, 56, dated while they were classmates at Princeton University. She recalled being in a "great relationship" with Cain, who was "beautiful" and "mouthwatering."
BROOKE SHIELDS REVEALS WHY HER DAUGHTERS WERE MAD ABOUT HER NEW DOCUMENTARY
In her upcoming Hulu documentary, "Brooke Shields: Pretty Baby," the mother of two talks about being sexualized in films at an early age, which made her "paralyzed from shame" in her real-life relationships.
At 11, the actress played a child prostitute in the 1978 movie "Pretty Baby" and was filmed naked. A few years later, a 14-year-old Shields starred in 1980's "The Blue Lagoon" in which she and on-screen love interest Christopher Atkins experience love, sex and puberty on an island. 
Shields recalled consistently being asked about her looks and sex life throughout her career. 
"I was the most famous virgin in the world," she has previously said. 
Being sexualized at a young age took a toll on her relationship with Cain.
"We had a great relationship, broke up, got back together again after three years. And that should have been a delicious time for me of reveling in it and feeling proud and free because I was in love," Shields said.
"But it was as if I was just paralyzed from shame, thinking everybody was going to know, thinking of letting my fans down because I had professed one thing."
The "Endless Love" actress said of Cain, "He just was so loyal and loving and just so in love. And I did not make it easy."
Learning from her mistakes, Shields said she hopes her two daughters are able to celebrate their bodies and sexuality.
CLICK HERE TO SIGN UP FOR THE ENTERTAINMENT NEWSLETTER
"I want them to feel celebrated rather than shamed — shamed by their body, shamed by their sexuality," she said. "It's such a burden to carry."
Shields shares daughters Rowan Francis, 19, and Grier Hammond, 16, with husband Chris Henchy.
In her documentary, which premieres April 3, Shields also opens up about being sexually assaulted in her 20s and explains why she's ready to share her story now. 
"It's taken me this long to process it. … I was never ready prior. I had to process it in my own way and on my own terms," Shields told People magazine.
"Everybody processes their own trauma on a different timeline. … it just felt like the right time now."
https://www.foxnews.com/entertainment/brooke-shields-apologized-dean-cain-not-easy-college-relationship