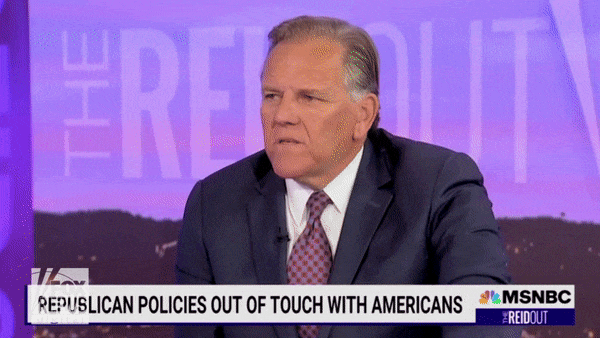 MSNBC host Joy Reid battled with former Congressman Mike Rogers, R-Mich., live on her show Wednesday, arguing that Republicans were abusing government power to punish teachers and ban drag shows. 
"What you're seeing among the people who are ascending in the party, like DeSantis, is attacks on schools, is attacks on teachers, is banning drag shows," Reid told Rogers. 
"I think you're talking about a smaller lane in the Republican Party," Rogers responded. 
"Is it small, though? They're ascendant!" Reid said, laughing. 
DESANTIS STRIPPING FLORIDA HOTEL'S LIQUOR LICENSE AFTER HOSTING 'LEWD' DRAG SHOW WITH CHILDREN PRESENT
The exchange became more heated as Reid and Rogers continued to interrupt each other in a debate over books in school libraries that some parents have claimed are pornographic. 
"Ban it from the school library, is what they're saying, right? They're saying they want to be able to control the access of that — " Rogers started. 
"Why should they control it and not me?" Reid asked. 
"But you can get that book at home. If you want to have that book at home, you can get that book at home," Rogers said. 
RON DESANTIS RAILS AGAINST MAINSTREAM MEDIA'S 'BOOK BAN HOAX': 'A FALSE POLITICAL NARRATIVE'
"They decide what's in school. That means only some parents have rights," Reid said, criticizing parents advocacy groups like Moms for Liberty.
Rogers pointed out that not all media should be allowed in schools. 
"You can take this argument to the extreme and say, 'Well, then everything should be available. Let them get on pornography sites on — '"
"Nobody is having porn books in schools," Reid said back.
Rogers argued that there was a difference between tolerance and parental rights. 
"We have to remember that there's a difference between tolerance of those who are different and LGBTQ community members," Rogers said, and instances "where people believe that they've taken the rights of parents away to make those kinds of decisions for their kids."
"And I think that's a big difference," he added. "I think we're going to have to work through that difference."
"I love that you said that," Reid told the former Congressman. 
"Because here is my question." she continued. "If I'm an African-American parent and I had black kids in Florida schools, and I say, 'I want my kids to read 'The Bluest Dye,' why does an organization like Moms for Liberty have the right to say, 'No, that book gets banned?' Or if I'm a parent of an LGBT — "
"But as a parent, you would have the right to have that book in your house," Rogers said, interrupting Reid. 
"But that's not what's happening," Reid shot back. 
"What you're seeing is groups like Moms for Liberty saying, 'No kid can have this book. Ban it.'" she continued.
CLICK HERE TO GET THE FOX NEWS APP
Rogers also left open the possibility of running for president during his appearance on Reid's show.
"I do think people are ready for something different. They know that something does not feel right, these are the Republicans that have not stood up and been heard about."
https://www.foxnews.com/media/joy-reid-clashes-republican-guest-education-nobody-having-porn-books-schools