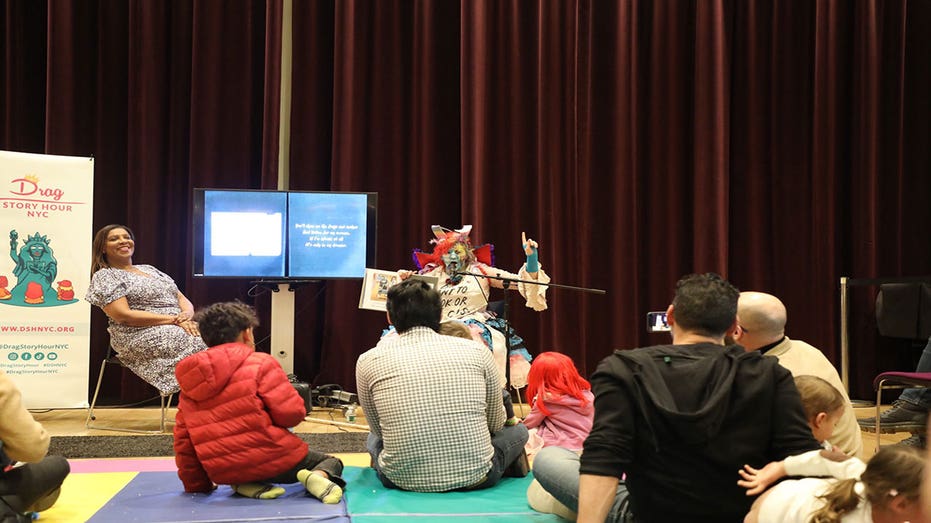 New York City's first Drag Story Hour Read-a-Thon officially kicked off on Sunday, hosted by New York Attorney General Letitia James.
The Drag Story Hour with James was attended by several other elected officials and LGBTQ advocacy groups. According to a press release from James' office, nearly 200 other guests, including families, "enjoyed four back-to-back Story Hours" at The LGBT Community Center.
James celebrated the occasion on Twitter, featuring pictures of herself alongside elected officials, New York families and drag queens.
"It's time for Drag Story Hour! We're at @LGBTCenterNYC with some amazing Drag Story Hour NYC storytellers, New York families, elected officials, and community leaders to kick off our Drag Story Hour read-a-thon!" James tweeted.
LIBS OF TIKTOK'S NYC BOOK EVENT FOR KIDS CANCELED AFTER RECEIVING THREATS OF 'UNSAFE BEHAVIOR' 
Another tweet read, "Raise your hand if you're excited for Drag Story Hour!" with a picture of a child raising their hand at the event.
"The recent rise in anti-LGBTQ+ protests, rhetoric, and policies has left New Yorkers — myself included — devastated and disappointed. But I know better than anyone that when the choice is between love and hate, between joy and venom, New Yorkers will always choose love, and New Yorkers will always choose joy," James said in a statement. "I am proud to have been joined by my colleagues in advocacy and government today in celebration of the love, joy, and family fun that Drag Story Hour brings to our communities. Hate has no home in New York, and I will always fight to ensure our LGBTQ+ siblings' rights are upheld and defended." 
According to the press release, the event was intended "to condemn hate and combat rampant disinformation" after "recent months have seen a rise in homophobic protests and fearmongering surrounding Drag Story Hour, and disgraceful harassment and vitriol directed at the LGBTQ+ community, advocates, and leaders."
James originally promoted the event on her Instagram with a flier reading "Drag Story Hour NYC with New York State Attorney General Letitia James."
It also said, "Families with children are invited to join Attorney General James, Drag storytellers, and city and state elected leaders."
The event was largely condemned on social media with conservative influencer Ashley St. Clair commenting, "Your tax dollars are hard at work grooming kids!"
OUTRAGE OVER NY ATTORNEY GENERAL LETITIA JAMES HOSTING 'DRAG STORY HOUR' FOR CHILDREN: 'THIS IS NOT THE WAY' 
New York City Mayor Eric Adams was also quoted saying, "Drag storytellers, and the organizations that support them, are advancing a love of diversity, personal expression, and literacy that are core to what our city embraces. Stories don't just teach children to love reading, but help them understand people who are different. And at a time when our LGBTQ+ communities are under increased attack across this country, we must use stories to educate. The goal is not only for our children to be academically smart, but also emotionally intelligent. I thank Attorney General James for hosting this event that clearly says New York City is the place where you can be yourself and love who you want."
The event followed Florida Gov. Ron DeSantis' office announcing that it will revoke a Miami hotel's liquor license after it was discovered the hotel hosted a "lewd" Christmas-themed drag show involving children last December.
CLICK HERE TO GET THE FOX NEWS APP
In contrast, a book event in New York City for "LibsofTikTok" account owner Chaya Raichik was canceled on Friday because of threats of "unsafe behavior. Raichik's event was intended to counter James' the Drag Story Hour on Sunday.
https://www.foxnews.com/media/new-york-ag-letitia-james-hosts-drag-story-hour-children-celebration-love-joy-family-fun