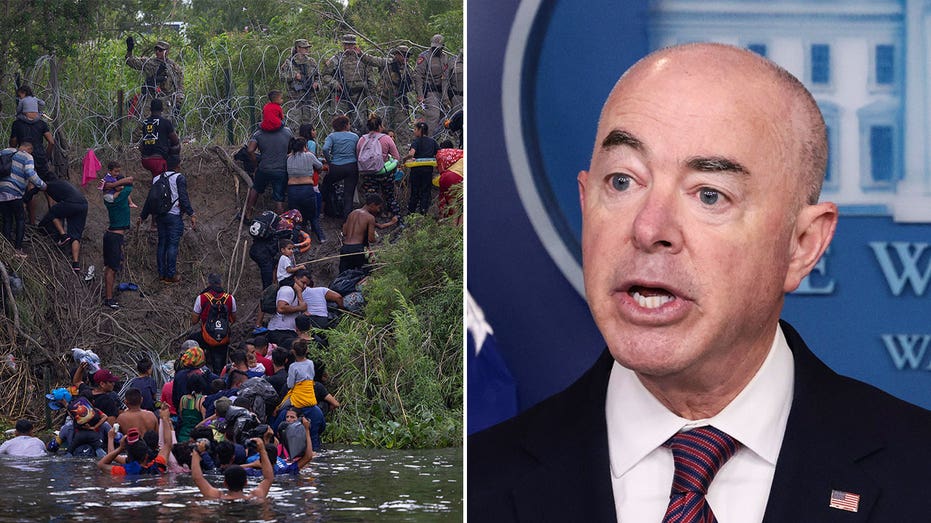 Homeland Security Secretary Alejandro Mayorkas said during an interview Sunday that the Biden administration's plan to curb illegal immigration has been successful.
Mayorkas pointed to recent migration statistics, saying that the number of migrant encounters at the U.S.-Mexico border has decreased to about 6,300 on Friday and 4,200 on Saturday, during the interview on CNN's "State of the Union." His comments came days after Title 42, a Trump-era policy that makes it easier for authorities to expel migrants, expired late Thursday.
"We have been planning for months and months, over a year and a half," Mayorkas said in the interview with CNN host Dana Bash. "We have surged resources, asylum officers, Border Patrol agents, processing coordinators to do the data entry work so our Border Patrol agents can be out in the field. We've expanded our holding capacity in Border Patrol stations." 
"We've added beds to Immigration and Customs Enforcement in our detention facilities," he continued. "We've increased our transportation resources — the number of flights, removal flights, with our foreign partners. We're setting up regional processing centers now. It's extraordinary what we've done over the past 18 months or so."
TITLE 42 EXPIRATION COULD BE AN ENVIRONMENTAL CATASTROPHE, EXPERTS WARN
On Monday, Tuesday and Wednesday, the three days prior to Title 42's final day in effect, Border Patrol agents encountered more than 10,000 migrants per day, Fox News Digital reported. Those figures marked the highest single-day totals ever recorded.
And over the last 12 months with available data, Border Patrol agents encountered about 6,958 migrants per day.
FEDERAL JUDGE BLOCKS BIDEN ADMIN FROM RELEASING MIGRANTS WITHOUT COURT DATES AS TITLE 42 EXPIRES
"What the secretary failed to say is that this week has seen more crossings than any time, any week in our history," Homeland Security Committee Chairman Mark Green, R-Tenn., said in an interview with CNN following Mayorkas' interview Sunday. "Yes, there was some anticipation. And so people started coming across at higher numbers, in fact, record-breaking numbers at the first part of the week." 
"But in the latter part of the week, a judge ruled that they can't do their plan of just releasing without a court date which Secretary Mayorkas has said on the news was a bad idea. But that court ruling said he can't do that," Green continued. "The drug cartels have responded and the numbers have fallen off for a couple of days. But he admitted just moments ago that they can't predict the peak."
Jeh Johnson, who served as Homeland Security Secretary between 2013 and 2017, said in 2019 — when the Trump administration was facing a border crisis — that 1,000 crossings a day marked an overwhelming number when he served in office.
"My staff would tell you, if it was under 1,000 apprehensions the day before that was a relatively good number, and if it was above 1,000 that was a relatively bad number and I was going to be in a bad mood the whole day," he said on MSNBC in March 2019.
The administration, meanwhile, has sent personnel including troops to the border, and has said it is stiffening penalties for illegal entry once Title 42 ends. It is also rolling out a new asylum rule that would technically make migrants ineligible for asylum if they have crossed illegally and failed to claim asylum in a country through which they have previously traveled. 
And it is creating processing centers across Latin America to screen migrants to see if they are eligible for a variety of lawful pathways into the U.S. or other participating countries.
"We are clear-eyed about the challenges we are likely to face in the days and weeks ahead, and we are ready to meet them," Mayorkas told reporters on Thursday. "We expected to see large numbers of encounters initially. We are already seeing high numbers of encounters in certain sectors." 
"This places an incredible strain on our personnel, our facilities, and our communities with whom we partner closely. We prepared for this moment for almost two years, and our plan will deliver results. It will take time for those results to be fully realized. And it is essential that we all take this into account."
The administration has also secured agreements with Mexico to accept non-Mexican migrants and to ramp up enforcement at its own southern border to stop migrants traveling through to the U.S. But President Biden, even when hailing those agreements, admitted on Tuesday that it is going to be "chaotic for a while" once the order ends.
Republicans, including Green, have blamed the administration for abandoning Trump-era border policies, such as wall construction and the Remain-in-Mexico policy, that they say were working to bring numbers down. They attribute the crisis to an increase of "catch-and-release" combined with reduced interior enforcement under the Biden administration.
Fox News' Adam Shaw contributed reporting.
https://www.foxnews.com/politics/dhs-sec-mayorkas-takes-victory-lap-border-surge-continues