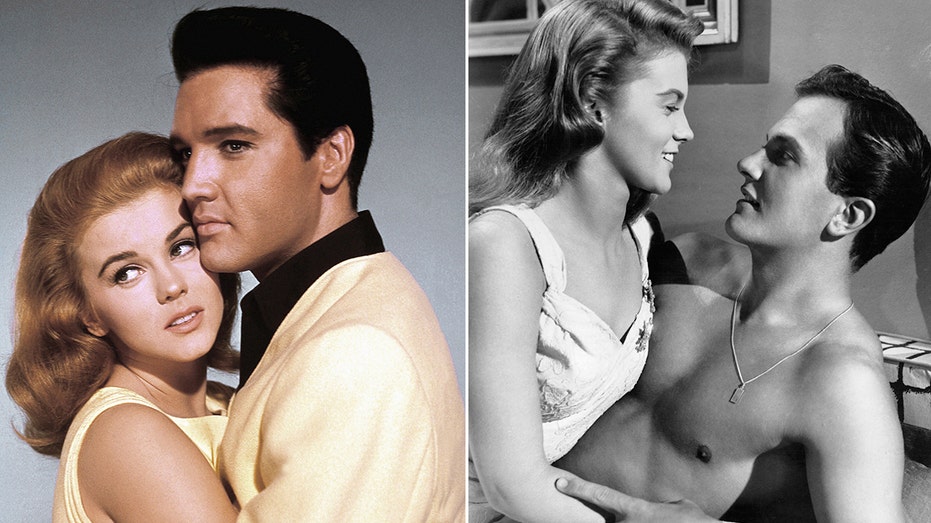 Ann-Margret's life forever changed when she shared the screen with The King.
In 1964, the sultry Swedish star appeared opposite Elvis Presley in "Viva Las Vegas," one of the most recognizable films from the singer's career. For decades, even long after Presley died in 1977 at age 42, many have speculated about their relationship when cameras stopped rolling. For the actress, what happened in Vegas stays in Vegas. She has only spoken of their friendship and experience of bringing the beloved musical to life.
"It was a joy working with E.P.," the 82-year-old told Fox News Digital. "We felt music the same way. We would listen to music, we would look at each other and woo! We would be moving the same way."
But before sparks flew with the hip-swiveling icon, Ann-Margret appeared alongside Pat Boone in 1962's "State Fair." During one steamy scene, Ann-Margret sent hearts racing as she nibbled on the entertainer, known for his squeaky clean image.
"It was on his left shoulder!" she proudly said. "As a matter of fact, I saw him two days ago here in Los Angeles. And of course, I reminded him of that. And I did it again! He said, 'Thank you' – he loved it."
Boone, 88, told Fox News Digital he remembers the scene fondly.
ANN-MARGRET REFLECTS ON 'VIVA LAS VEGAS,' VISITING TROOPS IN VIETNAM: 'BEING WITH THEM HAS BEEN IN MY HEART'
"This was my first real screen kiss, a highlight in my movie career – made more sensual and erotic as a very tempting young Ann-Margret nibbled and 'played tic-tac-toe' on my bare chest while we sang 'Willing and Eager,' the new Richard Rodgers song," he said. "I had a hard time convincing my wife, Shirley, that I was 'just acting.'"
But it was 1963's "Bye Bye Birdie" alongside another teen idol – Bobby Rydell – that made the pinup a household name.
"Bobby Rydell was a lovely, lovely man," she gushed. "You have to remember, I'm an only child who lived with my parents. I was just Ann-Margret Olsson. I still have the same friends from back then who never treated me any differently. And he just welcomed me with open arms. Through all these years, we stayed friends. Whenever he came into town, he would call me, and we would see each other. I knew his parents, his friends, his wife – everybody. He was such a good soul. He was going to come here, so we can record together. And then he got very, very ill. And then he passed away… I miss him."
The actor died in 2022 at age 79.
BOBBY RYDELL'S DEATH WAS A 'REAL SHOCK TO US,' SAYS MOM TO TEEN WHO SHARES LIVER TRANSPLANT WITH '60S ICON
During the '60s, the box office star became a sought-after sex symbol – a title she never had any qualms with.
"I was flattered," she chuckled. "The idea that some guy would come up to me and say, 'Hey, I think you're sexy,' oh man, what's not to love?"
And just like fellow screen siren Marilyn Monroe, Ann-Margret sang for President John F. Kennedy's birthday party in May 1963. It was a year after Monroe's performance, a celebration that turned out to be Kennedy's final birthday. The 46-year-old was assassinated in November of that year.
"I think I was 20-21 years old," she recalled. "I was extremely young, and I had the audacity to sing, 'Baby Won't You Please Come Home,' as only a real youngster would've. I met him and he was such a gentleman. He was a real cutie – and so was [his brother] Robert!"
But Ann-Margret stressed that her proudest achievement had nothing to do with Hollywood or the many stars she encountered along the way.
CLICK HERE TO SIGN UP FOR THE ENTERTAINMENT NEWSLETTER
In 1966, Ann-Margret received a letter containing 3,000 signatures from troops stationed in Vietnam asking her to perform for them. The answer was a no-brainer, she said. That year, she teamed up with the USO and traveled to Vietnam for a 15-day excursion just so she could be with "my guys."
"Here are these young men and women – they were there to do a man's job," the Golden Globe winner explained. "They might have arrived as 18-year-olds or 20-year-olds, but they became men in an instant. And these are my guys – they will always be my guys."
"They came from little villages, big cities," she shared. "And each young man I met had his own experience, his own story. And I remember each and every one of them. And they all loved America. Just thinking of their sacrifices for our country, for us, makes me emotional."
The experience stayed with Ann-Margret throughout her decades-long career in Hollywood. She still receives letters from those who saw her performances in Vietnam. Most recently, she launched a perfume that was created in honor of "her guys." All profits will go to the Vietnam Veterans Memorial Fund, a nonprofit organization that aims to "honor and preserve the legacy of service and educate all generations about the impact of the Vietnam War."
In 1980, the VVMF was commissioned by U.S. Congress to build a national memorial dedicated to those who served.
"Those guys mean the world to me," Ann-Margret explained. "I've always loved our veterans and wanted to give back… And all the profits will go to Vietnam veterans with my love. It's hard for me to even speak about them because it just fills my heart. I'm so with them. You have to remember, these men and women were ready to fight for us. They love America. And of course, I love America. I was born in Stockholm, Sweden, and I love my birth country very, very much. I came here when I was 6 years old, and they defended us… We cannot forget them."
PAT BOONE'S CONCERN FOR AMERICA: 'WE'RE GOING DOWN THE TUBES MORALLY'
"For me, being there was never a political statement – never, ever," she shared. "I'm not a political person – never have been. This was all about my love for them. I wanted them to know they weren't alone or forgotten."
Before finding fame in Hollywood, a young Ann-Margret Olsson, a freshman at Northwestern University, embarked on her first USO tour. She joined a few college classmates to entertain U.S. troops in Europe during Christmas break in 1960. That year, she moved to Los Angeles and made her TV debut on "The Jack Benny Program."
During her USO tour in Vietnam, her group's helicopter was attacked by ground fire. Ann-Margret said troops quickly bunched up to shield her from enemy bullets.
"I was never scared," she said. "That never entered my mind. Are you kidding? Those guys would never let me get hurt."
Ann-Margret performed for thousands of troops. She returned to Vietnam in 1968 and visited combat hospitals where she met and befriended wounded warriors and their caretakers.
"I was filled with such love," she said. "I remember looking into the audience and seeing those smiling faces and a lot of times blushing. And I would get them up [on stage] to dance with me. And there were some fabulous dancers there! I met so many of them individually. I could tell they loved America so much."
MARIE OSMOND REMEMBERS 'SECOND DAD' BOB HOPE, HEARTFELT MEETING WITH DISABLED VETERAN: 'I LOVE OUR MILITARY'
In 2003, the USO honored Ann-Margret with the Spirit of Hope award, which was named after her pal and USO legend, Bob Hope. Then in 2005, she reunited with Force Base, Nevada, to welcome troops home.
"Love – that's what I'm all about," she said. "There's such anger in the world now. I don't want to foster that. I just want to share the love, the kindness. That's what I believe in."
Little has changed for Ann-Margret. Most recently, she released an album, "Born to Be Wild," a collection of hand-picked rock standards. There's a cameo from Boone, 88, and a track dedicated to Rydell.
And she still rides her Harley.
"It was my daddy who inspired me to ride," she explained. "Before he met my mother, he had a couple of motorcycles. One was an Indian and the other a BSA. And my uncle, my mother's brother, had a big motorcycle. When I was 10 years old, I would ride on the back of his bike with him… He would take me to the Norwegian border, and we would go into Norway. There's no way I could forget that motorcycle."
"The speed, being in the elements, the wind and the rain, the sleet and hail – oh gosh, I get very excited when I even talk about it… Today, I've got this incredible Harley-Davidson motorcycle. It's very funny when you see it parked next to all the other bikes. It's lavender with daisies. It's quite unique!"
BOB HOPE'S LETTERS TO AMERICAN TROOPS DURING WWII CHRONICLED IN BOOK: IT 'AFFECTED HIS ENTIRE LIFE'
Life continues to be an adventure for Ann-Margret – and she wouldn't have it any other way.
"I've got a lot of energy – it doesn't come in a bottle," she boasted. "I am just blessed that my mother and father gave me such great energy. And there's no negativity here… They instilled in me all of these wonderful things that I still carry with me. You don't whine about things. You just go out and do the things that you love. And I just feel blessed with the life that I've been given."
https://www.foxnews.com/entertainment/ann-margret-describes-elvis-presley-connection-remembers-nibbling-pat-boones-shoulder