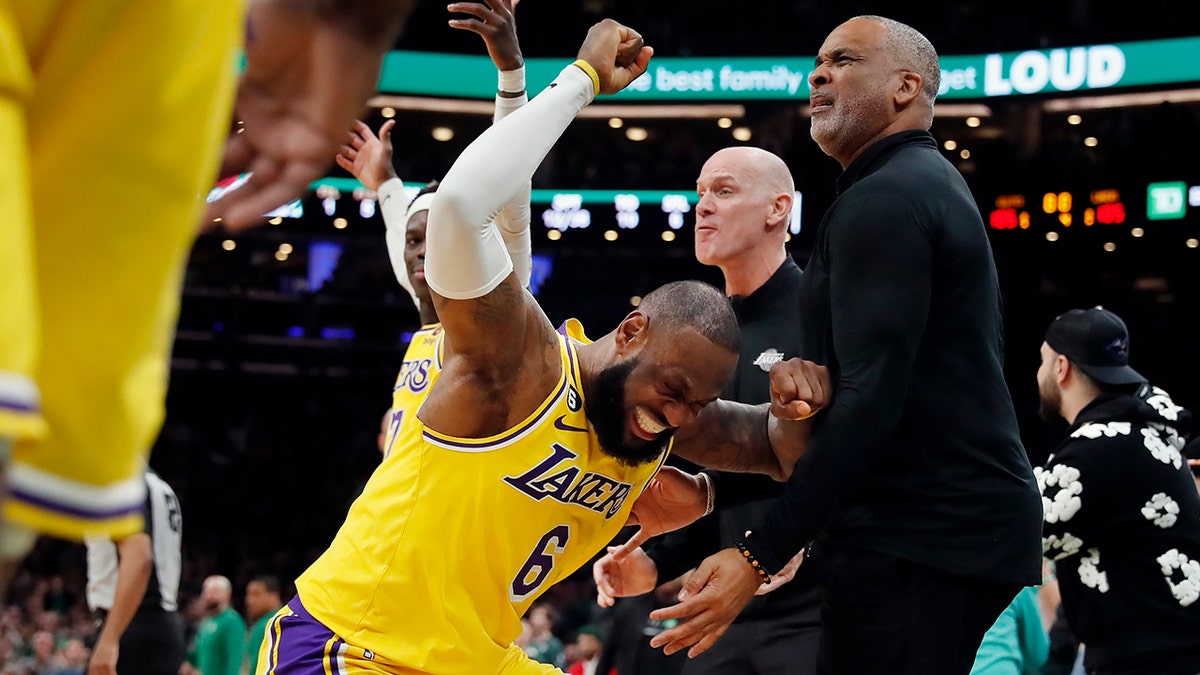 LeBron James was furious with NBA officials on Saturday night and Patrick Beverley received an untimely technical foul for sarcastically trying to show a referee they missed a call in the final moments of regulation.
In a 105-105 game between the Lakers and the Boston Celtics with about 4 seconds left, James went to his left and drove down the lane toward the basket. James was surrounded by three Celtics defenders and went up to the basket with his left hand and it appeared he was hit on the arm by Jayson Tatum.
CLICK HERE FOR MORE SPORTS COVERAGE ON FOXNEWS.COM
James missed the lay up and there was no foul called on the play. The Lakers superstar was beside himself over the no-call and fell to the floor in disbelief.
Beverley, at one point, came over with a camera to show the referee what he missed. He received a technical foul.
The game would go to overtime and Boston would come away with a 125-121 win.
LEBRON JAMES, NBA WORLD REACT TO VIDEO OF POLICE BEATING TYRE NICHOLS: 'WE ARE OUR OWN WORST ENEMY'
James played 44 minutes. He scored 41 points with nine rebounds and eight assists in the loss. Beverley added 15 points, five rebounds, five assists and two steals. Anthony Davis came off the bench and scored 16 points and grabbed 10 rebounds. He also had four assists.
Davis was just as upset after the game.
Crew Chief Eric Lewis admitted after the game the officials missed a call.
Tatum made the technical free throw before the overtime period began. He scored 30 points with 11 rebounds and four assists.
Jaylen Brown scored a team-high 37 points, grabbed nine boards and dished out three assists. He hit a couple of clutch shots to separate Boston from Los Angeles in the overtime period.
Boston moved to 36-15 with the win. Los Angeles fell to 23-27.
https://www.foxnews.com/sports/lebron-james-goes-berserk-missed-foul-call-patrick-beverley-gets-technical-foul-showing-ref-camera