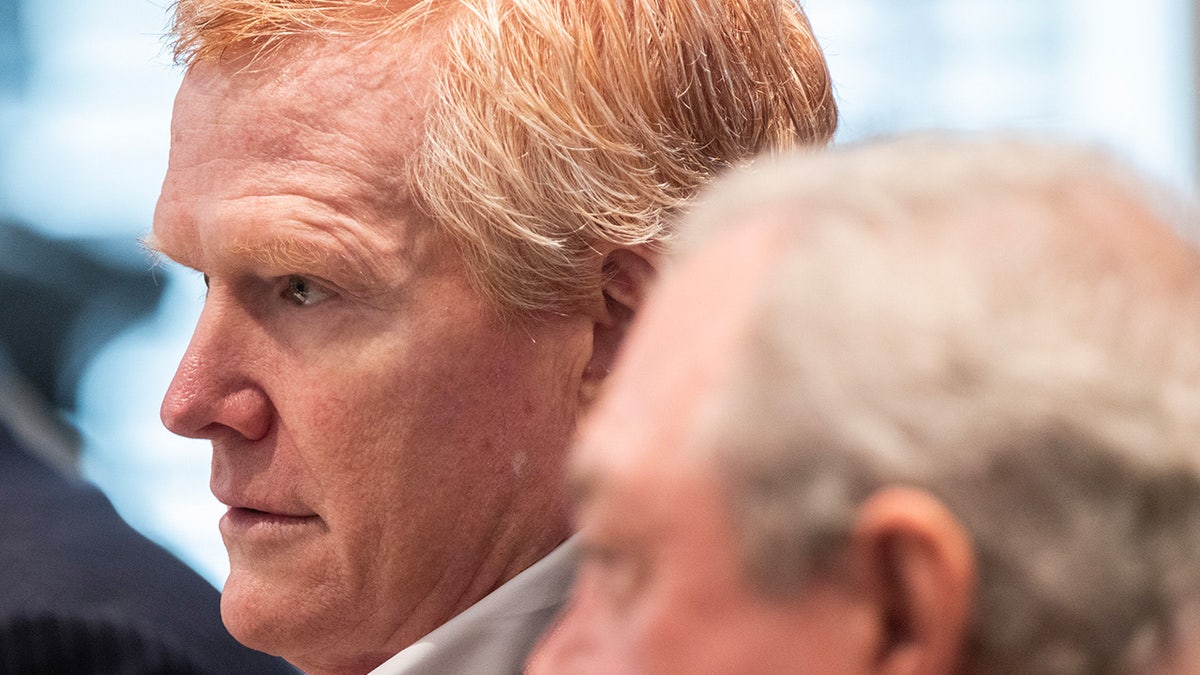 Alex Murdaugh was convicted Thursday of gunning down his wife and son after a panel of 12 jurors spent less than three hours deliberating.
The jury found Murdaugh guilty of two counts each of murder and weapons possession without posing a single question to the judge while weighing the case.
The panel's decision came after they endured a grueling six-week trial and testimony from 76 witnesses – including Murdaugh himself.
Prosecutors argued that Murdaugh, 54, used a shotgun to kill his son, Paul, 22, inside a feed room attached to the dog kennels at the family's estate, Moselle, and a rifle to execute his wife, Maggie, 52, June 7, 2021. 
ALEX MURDAUGH: TIMELINE OF ONCE-POWERFUL SOUTH CAROLINA LAWYER'S SPECTACULAR DOWNFALL
The disbarred attorney carried out the double slayings to stave off a devastating financial reckoning, Assistant Attorney General Creighton Waters told jurors.
LISTEN: THE FOX TRUE CRIME PODCAST WITH EMILY COMPAGNO
The wealthy scion of a once powerful legal dynasty has admitted he's a drug addict and thief who allegedly swindled his law firm and clients out of nearly $9 million – but denied killing his wife and son.
The most damning piece of evidence against Murdaugh is a cellphone video recovered from Paul's phone in 2022 that places him at the murder scene with the victims four minutes before prosecutors say they were shot to death at 8:50 p.m.
For months, Murdaugh repeatedly told investigators, friends and his own family that he did not go to the dog kennels the night of the slayings. He claimed, instead, that he was napping at the main house perched on a hill then left to visit his mother in nearby Almeda at 9:07 p.m.
When he returned, he didn't find them at the main house, so he drove to the kennels, where he said he came upon their mutilated bodies about 30 feet apart, checked their pulses and then called 911.
ALEX MURDAUGH TESTIFIES HE IS NOT A 'FAMILY ANNIHILATOR' AT HIS DOUBLE-MURDER TRIAL
But GPS data from his Chevrolet Suburban revealed that he dialed 911 less than 20 seconds after he pulled up.
"Nineteen seconds. Is that enough time for a surprised human being to come across that scene, process what they are seeing, get out of the car, go over there, check both their bodies then call 911?" asked Waters in closing arguments. 
"The reason why it's so quick is because he knew exactly what scene he was going to find," the prosecutor told jurors. Murdaugh claimed when he testified that he had checked their pulses while he was on the phone with 911.
Murdaugh admitted publicly for the first time when he testified to lying to investigators in three separate interviews about his presence at the kennels that night.
He claimed his oxycodone addiction made him paranoid of law-enforcement – although he had an exceptionally cozy relationship with local prosecutors and the surrounding sheriffs' offices.
Three generations of the Murdaugh family served as the top prosecutor overseeing five counties in South Carolina's Lowcountry for 87 years – a reign that ended when Alex Murdaugh's late father Randolph Murdaugh III retired in 2005. 
PROSECUTION IN ALEX MURDAUGH DOUBLE MURDER TRIAL RESTS ITS CASE AFTER DRAMATIC RE-ENACTMENT
The Murdaugh name wielded enormous influence, and Alex Murdaugh even served as a volunteer prosecutor who carried a badge and had blue police lights installed on his private vehicle.
Waters told jurors that Murdaugh was a cunning conman who tried to deceive them when he took the stand last week.
"This is a man who made his trade on lying. He lied about the most important facts in the case and effortlessly and easily pivoted to a new lie when confronted by something he wasn't prepared for," said Waters of Murdaugh's testimony.
"He fooled Maggie and Paul, too, and they paid for it with their lives. Don't let him fool you, too," the prosecutor said.
The defense called 14 witnesses – including experts who testified that Maggie's shooter was no taller than 5 foot 4 and that there were likely two killers.
Defense lawyers Dick Harpootlian and Jim Griffin have repeatedly portrayed Murdaugh as a doting father and husband who is incapable of committing such a brutal and heinous crime.
Griffin argued in summations that investigators "failed miserably" in their probe.
He rattled off all the alleged missteps made by the South Carolina Law Enforcement Division and the state attorney general's office, who he argued zeroed in on Murdaugh without considering other suspects.
"On behalf of Alex, on behalf of Buster, on behalf of Maggie and on behalf of my friend, Paul, I respectfully request that you do not compound a family tragedy with another. Thank you," said Griffin, as his voice cracked with emotion.
Murdaugh faces up to life in prison when he's sentenced.
https://www.foxnews.com/us/alex-murdaugh-convicted-thursday-fatally-shooting-wife-son